Matthew 23:37
From Textus Receptus
ΚΑΤΑ ΜΑΤΘΑΙΟΝ 23:37 Ἰερουσαλὴμ Ἰερουσαλήμ, ἡ ἀποκτείνουσα τοὺς προφήτας καὶ λιθοβολοῦσα τοὺς ἀπεσταλμένους πρὸς αὐτήν, ποσάκις ἠθέλησα ἐπισυναγαγεῖν τὰ τέκνα σου ὃν τρόπον ἐπισυνάγει ὄρνις τὰ νοσσία ἑαυτῆς ὑπὸ τὰς πτέρυγας καὶ οὐκ ἠθελήσατε
(Textus Receptus, Theodore Beza, 1598)
Matthew 23:37 O Jerusalem, Jerusalem, thou that killest the prophets, and stonest them which are sent unto thee, how often would I have gathered thy children together, even as a hen gathereth her chickens under her wings, and ye would not!
(King James Version, Pure Cambridge Edition)
Matthew 23:37 O Jerusalem, Jerusalem, you who kills the prophets, and stones those who are sent to it! How often I wanted to gather your children together, just as a hen gathers her chickens under her wings, and you were not willing!
Interlinear
Commentary
Greek
Textus Receptus
Colinæus
See Also Matthew 1:1 Beza 1598 (Beza)
Elzevir
Scholz
Scrivener
Other Greek
1857 (Tregelles' Greek New Testament)
(Tischendorf 8th Ed.)
1881 (Westcott & Hort)
(Greek orthodox Church)
Anglo Saxon Translations
1000 (Anglo-Saxon Gospels Manuscript 140, Corpus Christi College by Aelfric)
1200 (Anglo-Saxon Gospels Hatton Manuscript 38, Bodleian Library by unknown author)
English Translations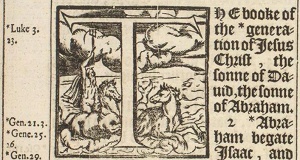 1745 (Mr. Whiston's Primitive New Testament)
1770 (Worsley Version by John Worsley)
1790 (Wesley Version by John Wesley)
1795 (A Translation of the New Testament from the Original Greek by Thomas Haweis)
1835 (Living Oracles by Alexander Campbell)
1851 (Murdock Translation)
1865 (The New Testament of Our Lord and Savior Jesus Christ 1865 by American Bible Union)
1869 (Noyes Translation by George Noyes)
1885 (Revised Version also called English Revised Version - Charles Ellicott editor)
1902 The Lineage Roll of Jesus Christ,––Son of David, Son of Abraham. (The Emphasised Bible Rotherham Version)
1902 (Translation of the New Testament from the Original Greek by William Godbey)
1904 (Twentieth Century New Testament by Ernest Malan and Mary Higgs)
1912 (Weymouth New Testament)
1918 (The New Testament Translated from the Sinaitic Manuscript by Henry Anderson)
Foreign Language Versions
يا اورشليم يا اورشليم يا قاتلة الانبياء وراجمة المرسلين اليها كم مرة اردت ان اجمع اولادك كما تجمع الدجاجة فراخها تحت جناحيها ولم تريدوا. (Arabic Smith & Van Dyke)
ܐܘܪܫܠܡ ܐܘܪܫܠܡ ܩܛܠܬ ܢܒܝܐ ܘܪܓܡܬ ܠܐܝܠܝܢ ܕܫܠܝܚܝܢ ܠܘܬܗ ܟܡܐ ܙܒܢܝܢ ܨܒܝܬ ܕܐܟܢܫ ܒܢܝܟܝ ܐܝܟ ܕܟܢܫܐ ܬܪܢܓܘܠܬܐ ܦܪܘܓܝܗ ܬܚܝܬ ܓܦܝܗ ܘܠܐ ܨܒܝܬܘܢ ܀ (Aramaic Peshitta)
Ierusalem, Ierusalem, Prophetác hiltzen eta hiregana igorriac lapidatzen dituaná, cembatetan bildu nahi vkan ditut hire haourrac, oilloac bere chitoac hegalen azpira biltzen dituen beçala, eta ezpaituc nahi vkan?
1940 Ерусалиме! Ерусалиме! ти, който избиваш пророците, и с камъни убиваш пратените до тебе, колко пъти съм искал да събера твоите чада, както кокошката прибира пилците си под крилата си, но не искахте! (Bulgarian Bible)
1 耶 路 撒 冷 阿 , 耶 路 撒 冷 阿 , 你 常 杀 害 先 知 , 又 用 石 头 打 死 那 奉 差 遣 到 你 这 里 来 的 人 。 我 多 次 愿 意 聚 集 你 的 儿 女 , 好 像 母 鸡 把 小 鸡 聚 集 在 翅 膀 底 下 , 只 是 你 们 不 愿 意 。 (Chinese Union Version (Simplified))
1 耶 路 撒 冷 阿 , 耶 路 撒 冷 阿 , 你 常 殺 害 先 知 , 又 用 石 頭 打 死 那 奉 差 遣 到 你 這 裡 來 的 人 。 我 多 次 願 意 聚 集 你 的 兒 女 , 好 像 母 雞 把 小 雞 聚 集 在 翅 膀 底 下 , 只 是 你 們 不 願 意 。 (Chinese Union Version (Traditional))
Jérusalem, Jérusalem, la ville qui tue les prophètes et qui lapide ceux qui lui sont envoyés, que de fois j'ai voulu rassembler tes enfants comme une poule rassemble ses poussins sous ses ailes, et vous ne l'avez pas voulu! (French Darby)
1744 Jérusalem, Jérusalem, qui tues les Prophètes, et qui lapides ceux qui te sont envoyés, combien de fois ai-je voulu rassembler tes enfants, comme la poule rassemble ses poussins sous ses ailes, et vous ne l'avez point voulu! (Martin 1744)
1744 Jérusalem, Jérusalem, qui tues les prophètes, et qui lapides ceux qui te sont envoyés, combien de fois ai-je voulu rassembler tes enfants, comme une poule rassemble ses poussins sous ses ailes; et vous ne l'avez pas voulu! (Ostervald 1744)
1545 Jerusalem, Jerusalem, die du tötest die Propheten und steinigest, die zu dir gesandt sind, wie oft habe ich deine Kinder versammeln wollen, wie eine Henne versammelt ihre Küchlein unter ihre Flügel; und ihr habt nicht gewollt! (Luther 1545)
1871 Jerusalem, Jerusalem, die da tötet die Propheten und steinigt, die zu ihr gesandt sind! Wie oft habe ich deine Kinder versammeln wollen, wie eine Henne ihre Küchlein versammelt unter ihre Flügel, und ihr habt nicht gewollt! (Elberfelder 1871)
1912 Jerusalem, Jerusalem, die du tötest die Propheten und steinigst, die zu dir gesandt sind! wie oft habe ich deine Kinder versammeln wollen, wie eine Henne versammelt ihre Küchlein unter ihre Flügel; und ihr habt nicht gewollt! (Luther 1912)
1649 Gerusalemme, Gerusalemme, che uccidi i profeti, e lapidi coloro che ti son mandati! quante volte ho voluto raccogliere i tuoi figliuoli, nella maniera che la gallina raccoglie i suoi pulcini sotto le ale, e voi non avete voluto! (Giovanni Diodati Bible 1649)
1927 Gerusalemme, Gerusalemme, che uccidi i profeti e lapidi quelli che ti sono mandati, quante volte ho voluto raccogliere i tuoi figliuoli, come la gallina raccoglie i suoi pulcini sotto le ali; e voi non avete voluto! (Riveduta Bible 1927)
Hierusalem Hierusalem quae occidis prophetas et lapidas eos qui ad te missi sunt quotiens volui congregare filios tuos quemadmodum gallina congregat pullos suos sub alas et noluisti Latin Vulgate
1527 (Erasmus Vulgate 1527)
2010 Ierusalime, Ierusalime, care omori pe prooroci şi ucizi cu pietre pe cei trimeşi la tine! De cîte ori am vrut să strîng pe copiii tăi cum îşi strînge găina puii supt aripi, şi n'aţi vrut! (Biblia Traducerea Fidela în limba româna)
1876 Иерусалим, Иерусалим, избивающий пророков и камнямипобивающий посланных к тебе! сколько раз хотел Я собрать детей твоих, как птица собирает птенцов своих под крылья, и вы не захотели! Russian Synodal Version
Phonetically:
Jerusalem, Jerusalem, que matas á los profetas, y apedreas á los que son enviados á ti! ¡cuántas veces quise juntar tus hijos, como la gallina junta sus pollos debajo de las alas, y no quisiste! (RVG Spanish)
1917 Jerusalem, Jerusalem, du som dräper profeterna och stenar dem som äro sända till dig! Huru ofta har jag icke velat församla dina barn, likasom hönan församlar sina kycklingar under sina vingar! Men I haven icke velat. (Swedish - Svenska 1917)
1905 Oh Jerusalem, Jerusalem, na pumapatay sa mga propeta, at bumabato sa mga sinusugo sa kaniya! makailang inibig kong tipunin ang iyong mga anak, na gaya ng pagtitipon ng inahing manok sa kaniyang mga sisiw sa ilalim ng kaniyang mga pakpak, ay ayaw kayo! (Ang Dating Biblia 1905)
1996 (Tok Pisin King Jems)
1934 Hỡi Giê-ru-sa-lem, Giê-ru-sa-lem, ngươi giết các đấng tiên tri và ném đá những kẻ chịu sai đến cùng ngươi, bao nhiêu lần ta muốn nhóm họp các con ngươi như gà mái túc con mình lại ấp trong cánh, mà các ngươi chẳng khứng! (VIET)
See Also
External Links