Matthew 23:28
From Textus Receptus
ΚΑΤΑ ΜΑΤΘΑΙΟΝ 23:28 οὕτως καὶ ὑμεῖς ἔξωθεν μὲν φαίνεσθε τοῖς ἀνθρώποις δίκαιοι ἔσωθεν δέ μεστοὶ ἐστε ὑποκρίσεως καὶ ἀνομίας
(Textus Receptus, Theodore Beza, 1598)
Matthew 23:28 Even so ye also outwardly appear righteous unto men, but within ye are full of hypocrisy and iniquity.
(King James Version, Pure Cambridge Edition)
Matthew 23:28 Even so you also outwardly appear righteous to men, but inside you are full of hypocrisy and iniquity.
Interlinear
Commentary
Greek
Textus Receptus
Colinæus
See Also Matthew 1:1 Beza 1598 (Beza)
Elzevir
Scholz
Scrivener
Other Greek
1857 (Tregelles' Greek New Testament)
(Tischendorf 8th Ed.)
1881 (Westcott & Hort)
(Greek orthodox Church)
Anglo Saxon Translations
1000 (Anglo-Saxon Gospels Manuscript 140, Corpus Christi College by Aelfric)
1200 (Anglo-Saxon Gospels Hatton Manuscript 38, Bodleian Library by unknown author)
English Translations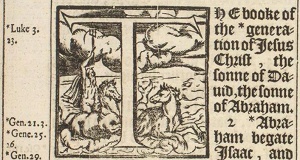 1745 (Mr. Whiston's Primitive New Testament)
1770 (Worsley Version by John Worsley)
1790 (Wesley Version by John Wesley)
1795 (A Translation of the New Testament from the Original Greek by Thomas Haweis)
1835 (Living Oracles by Alexander Campbell)
1851 (Murdock Translation)
1865 (The New Testament of Our Lord and Savior Jesus Christ 1865 by American Bible Union)
1869 (Noyes Translation by George Noyes)
1885 (Revised Version also called English Revised Version - Charles Ellicott editor)
1902 The Lineage Roll of Jesus Christ,––Son of David, Son of Abraham. (The Emphasised Bible Rotherham Version)
1902 (Translation of the New Testament from the Original Greek by William Godbey)
1904 (Twentieth Century New Testament by Ernest Malan and Mary Higgs)
1912 (Weymouth New Testament)
1918 (The New Testament Translated from the Sinaitic Manuscript by Henry Anderson)
Foreign Language Versions
هكذا انتم ايضا من خارج تظهرون للناس ابرارا ولكنكم من داخل مشحونون رياء واثما. (Arabic Smith & Van Dyke)
ܗܟܢܐ ܐܦ ܐܢܬܘܢ ܡܢ ܠܒܪ ܡܬܚܙܝܢ ܐܢܬܘܢ ܠܒܢܝ ܐܢܫܐ ܐܝܟ ܙܕܝܩܐ ܘܡܢ ܠܓܘ ܡܠܝܢ ܐܢܬܘܢ ܥܘܠܐ ܘܡܤܒ ܒܐܦܐ ܀ (Aramaic Peshitta)
Halaber çuec-ere campotic guiçoney eracusten çarete iusto, baina barnean hypocrisiaz eta iniquitatez betheac çarete.
1940 Също така и вие от вън се виждате на човеците праведни, но отвътре сте пълни с лицемерие и беззаконие. (Bulgarian Bible)
1 你 们 也 是 如 此 , 在 人 前 , 外 面 显 出 公 义 来 , 里 面 却 装 满 了 假 善 和 不 法 的 事 。 (Chinese Union Version (Simplified))
1 你 們 也 是 如 此 , 在 人 前 , 外 面 顯 出 公 義 來 , 裡 面 卻 裝 滿 了 假 善 和 不 法 的 事 。 (Chinese Union Version (Traditional))
Ainsi, vous aussi, au dehors vous paraissez justes aux hommes, mais au dedans vous êtes pleins d'hypocrisie et d'iniquité. (French Darby)
1744 Ainsi vous paraissez justes par dehors aux hommes, mais au dedans vous êtes pleins d'hypocrisie et d'iniquité. (Martin 1744)
1744 Vous de même, au-dehors vous paraissez justes aux hommes, mais au-dedans vous êtes remplis d'hypocrisie et d'injustice. (Ostervald 1744)
1545 Also auch ihr; von außen scheinet ihr vor den Menschen fromm, aber inwendig seid ihr voller Heuchelei und Untugend. (Luther 1545)
1871 Also scheinet auch ihr von außen zwar gerecht vor den Menschen, von innen aber seid ihr voll Heuchelei und Gesetzlosigkeit. (Elberfelder 1871)
1912 Also auch ihr: von außen scheint ihr den Menschen fromm, aber in wendig seid ihr voller Heuchelei und Untugend. (Luther 1912)
1649 Così ancora voi apparite giusti di fuori agli uomini; ma dentro, siete pieni d'ipocrisia e d'iniquità. (Giovanni Diodati Bible 1649)
1927 Così anche voi, di fuori apparite giusti alla gente; ma dentro siete pieni d'ipocrisia e d'iniquità. (Riveduta Bible 1927)
sic et vos a foris quidem paretis hominibus iusti intus autem pleni estis hypocrisi et iniquitate Latin Vulgate
1527 (Erasmus Vulgate 1527)
2010 Tot aşa şi voi, pe dinafară vă arătaţi neprihăniţi oamenilor, dar pe dinlăuntru sînteţi plini de făţărnicie şi de fărădelege. (Biblia Traducerea Fidela în limba româna)
Phonetically:
Así también vosotros de fuera, á la verdad, os mostráis justos á los hombres; mas de dentro, llenos estáis de hipocresía é iniquidad. (RVG Spanish)
1917 Så synens ock I utvärtes för människorna rättfärdiga, men invärtes ären I fulla av skrymteri och orättfärdighet. (Swedish - Svenska 1917)
1905 Gayon din naman kayo, sa labas ay nangagaanyong matuwid sa mga tao, datapuwa't sa loob ay puno kayo ng pagpapaimbabaw at ng katampalasanan. (Ang Dating Biblia 1905)
1996 (Tok Pisin King Jems)
1934 Các ngươi cũng vậy, bề ngoài ra dáng công bình, nhưng ở trong thì chan chứa sự giả hình và tội lỗi. (VIET)
See Also
External Links