Minuscule 65
From Textus Receptus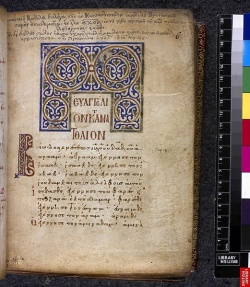 Minuscule 65 (in the Gregory-Aland numbering), ε 135 (von Soden), formerly known as Ussher 2, is a Greek minuscule manuscript of the New Testament, on parchment leaves. Palaeographically it had been assigned to the 11th century.[1]
History
In 1674 archbishop of Proconesus presented this manuscript to John Covel (1637-1722), british chaplain in Constantinople, and in 1677 it came to England.[5] The manuscript was examined by Mill and Griesbach.[2] Griesbach gave for it number 167 on his list.
It is currently housed at the British Library as a part of the Harleian Collection (5776), at London.[1]
I'm sohkecd that I found this info so easily.
References
1. K. Aland, M. Welte, B. Köster, K. Junack, "Kurzgefasste Liste der griechischen Handschriften des Neues Testaments", Walter de Gruyter, Berlin, New York 1994, p. 50.
2. C. R. Gregory, "Textkritik des Neuen Testaments", Leipzig 1900, vol. 1, p. 144.
3. Scrivener, Frederick Henry Ambrose; Edward Miller (1894). A Plain Introduction to the Criticism of the New Testament, Vol. 1. London: George Bell & Sons. p. 202.
4. Kurt Aland, and Barbara Aland, "The Text of the New Testament: An Introduction to the Critical Editions and to the Theory and Practice of Modern Textual Criticism", transl. Erroll F. Rhodes, William B. Eerdmans Publishing Company, Grand Rapids, Michigan, 1995, p. 138.
5. Michaelis, Introduction to the New Testament (London 1823), p. 735.
Further reading
Cyril Ernest Wright, Fontes Harleiani: A Study of the Sources of the Harleian Collection of Manuscripts in the British Museum (London: British Museum, 1972), p. 116.
See bibliography to Family E
External links
List of New Testament minuscules
1 · 2 · 3 · 4 · 5 · 6 · 7 · 8 · 9 · 10 · 11 · 12 · 13 · 14 · 15 · 16 · 17 · 18 · 19 · 20 · 21 · 22 · 23 · 24 · 25 · 26 · 27 · 28 · 29 · 30 · 31 · 32 · 33 · 34 · 35 · 36 · 37 · 38 · 39 · 40 · 41 · 42 · 43 · 44 · 45 · 46 · 47 · 48 · 49 · 50 · 51 · 52 · 53 · 54 · 55 · 56 · 57 · 58 · 59 · 60 · 61 · 62 · 63 · 64 · 65 · 66 · 67 · 68 · 69 · 70 · 71 · 72 · 73 · 74 · 75 · 76 · 77 · 78 · 79 · 80 · 81 · 82 · 83 · 84 · 85 · 86 · 87 · 88 · 89 · 90 · 91 · 92 · 93 · 94 · 95 · 96 · 97 · 98 · 99 · 100 · 101 · 102 · 103 · 104 · 105 · 106 · 107 · 108 · 109 · 110 · 111 · 112 · 113 · 114 · 115 · 116 · 117 · 118 · 119 · 120 · 121 · 122 · 123 · 124 · 125 · 126 · 127 · 128 · 129 · 130 · 131 · 132 · 133 · 134 · 135 · 136 · 137 · 138 · 139 · 140 · 141 · 142 · 143 · 144 · 145 · 146 · 147 · 148 · 149 · 150 · 151 · 152 · 153 · 154 · 155 · 156 · 157 · 158 · 159 · 160 · 161 · 162 · 163 · 164 · 165 · 166 · 167 · 168 · 169 · 170 · 171 · 172 · 173 · 174 · 175 · 176 · 177 · 178 · 179 · 180 · 181 · 182 · 183 · 184 · 185 · 186 · 187 · 188 · 189 · 190 · 191 · 192 · 193 · 194 · 195 · 196 · 197 · 198 · 199 · 200 · 201 · 202 · 203 · 204 · 205 · 206 · 207 · 208 · 209 · 210 · 211 · 212 · 213 · 214 · 215 · 216 · 217 · 218 · 219 · 220 · 221 · 222 · 223 · 224 · 225 · 226 · 227 · 228 · 229 · 230 · 231 · 232 · 233 · 234 · 235 · 236 · 237 · 238 · 239 · 240 · 241 · 242 · 243 · 244 · 245 · 246 · 247 · 248 · 249 · 250 · 251 · 252 · 253 · 254 · 255 · 256 · 257 · 258 · 259 · 260 · 261 · 262 · 263 · 264 · 265 · 266 · 267 · 268 · 269 · 270 · 271 · 272 · 273 · 274 · 275 · 276 · 277 · 278 · 279 · 280 · 281 · 282 · 283 · 284 · 285 · 286 · 287 · 288 · 289 · 290 · 291 · 292 · 293 · 294 · 295 · 296 · 297 · 298 · 299 · 300 · 301 · 302 · 303 · 304 · 305 · 306 · 307 · 308 · 309 · 310 · 311 · 312 · 313 · 314 · 315 · 316 · 317 · 318 · 319 · 320 · 321 · 322 · 323 · 324 · 325 · 326 · 327 · 328 · 329 · 330 · 331 · 332 · 333 · 334 · 335 · 336 · 337 · 338 · 339 · 340 · 341 · 342 · 343 · 344 · 345 · 346 · 347 · 348 · 349 · 350 · 351 · 352 · 353 · 354 · 355 · 356 · 357 · 358 · 359 · 360 · 361 · 362 · 363 · 364 · 365 · 366 · 367 · 368 · 369 · 370 · 371 · 372 · 373 · 374 · 375 · 376 · 377 · 378 · 379 · 380 · 381 · 382 · 383 · 384 · 385 · 386 · 387 · 388 · 389 · 390 · 391 · 392 · 393 · 394 · 395 · 396 · 397 · 398 · 399 · 400 · 401 · 402 · 403 · 404 · 405 · 406 · 407 · 408 · 409 · 410 · 411 · 412 · 413 · 414 · 415 · 416 · 417 · 418 · 419 · 420 · 421 · 422 · 423 · 424 · 425 · 426 · 427 · 428 · 429 · 430 · 431 · 432 · 433 · 434 · 435 · 436 · 437 · 438 · 439 · 440 · 441 · 442 · 443 · 444 · 445 · 446 · 447 · 448 · 449 · 450 · 451 · 452 · 453 · 454 · 455 · 456 · 457 · 458 · 459 · 460 · 461 · 462 · 463 · 464 · 465 · 466 · 467 · 468 · 469 · 470 · 471 · 472 · 473 · 474 · 475 · 476 · 477 · 478 · 479 · 480 · 481 · 482 · 483 · 484 · 485 · 486 · 487 · 488 · 489 · 490 · 491 · 492 · 493 · 494 · 495 · 496 · 497 · 498 · 499 · 500 · 501 · 502 · 503 · 504 · 505 · 506 · 507 · 543 · 565 · 566 · 579 · 585 · 614 · 639 · 653 · 654 · 655 · 656 · 657 · 658 · 659 · 660 · 661 · 669 · 676 · 685 · 700 · 798 · 823 · 824 · 825 · 826 · 827 · 828 · 829 · 830 · 831 · 876 · 891 · 892 · 893 · 1071 · 1143 · 1152 · 1241 · 1253 · 1423 · 1424 · 1432 · 1582 · 1739 · 1780 · 1813 · 1834 · 2053 · 2059 · 2060 · 2061 · 2062 · 2174 · 2268 · 2344 · 2423 · 2427 · 2437 · 2444 · 2445 · 2446 · 2460 · 2464 · 2491 · 2495 · 2612 · 2613 · 2614 · 2615 · 2616 · 2641 · 2754 · 2755 · 2756 · 2757 · 2766 · 2767 · 2768 · 2793 · 2802 · 2803 · 2804 · 2805 · 2806 · 2807 · 2808 · 2809 · 2810 · 2811 · 2812 · 2813 · 2814 · 2815 · 2816 · 2817 · 2818 · 2819 · 2820 · 2821 · 2855 · 2856 · 2857 · 2858 · 2859 · 2860 · 2861 · 2862 · 2863 · 2881 · 2882 ·
---