Minuscule 2755
From Textus Receptus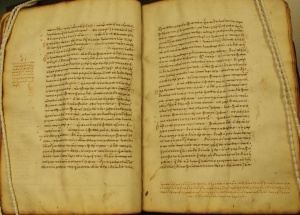 Minuscule 2755 (in the Gregory-Aland numbering), is a Greek minuscule manuscript of the New Testament, on 370 parchment leaves (32.2 cm by 23.2 cm). Dated paleografically to the 11th century. Written in one column per page, in 29 lines per page.[1]
Description
The codex contains a complete text of the four Gospels with a commentary.[1]
The codex now is housed at Bible Museum (Ms. 9) in Münster.[1]
See also
References
1. K. Aland, M. Welte, B. Köster, K. Junack, Kurzgefasste Liste der griechischen Handschriften des Neues Testaments, Walter de Gruyter, Berlin, New York 1994, p. 207.
External links
List of New Testament minuscules
1 · 2 · 3 · 4 · 5 · 6 · 7 · 8 · 9 · 10 · 11 · 12 · 13 · 14 · 15 · 16 · 17 · 18 · 19 · 20 · 21 · 22 · 23 · 24 · 25 · 26 · 27 · 28 · 29 · 30 · 31 · 32 · 33 · 34 · 35 · 36 · 37 · 38 · 39 · 40 · 41 · 42 · 43 · 44 · 45 · 46 · 47 · 48 · 49 · 50 · 51 · 52 · 53 · 54 · 55 · 56 · 57 · 58 · 59 · 60 · 61 · 62 · 63 · 64 · 65 · 66 · 67 · 68 · 69 · 70 · 71 · 72 · 73 · 74 · 75 · 76 · 77 · 78 · 79 · 80 · 81 · 82 · 83 · 84 · 85 · 86 · 87 · 88 · 89 · 90 · 91 · 92 · 93 · 94 · 95 · 96 · 97 · 98 · 99 · 100 · 101 · 102 · 103 · 104 · 105 · 106 · 107 · 108 · 109 · 110 · 111 · 112 · 113 · 114 · 115 · 116 · 117 · 118 · 119 · 120 · 121 · 122 · 123 · 124 · 125 · 126 · 127 · 128 · 129 · 130 · 131 · 132 · 133 · 134 · 135 · 136 · 137 · 138 · 139 · 140 · 141 · 142 · 143 · 144 · 145 · 146 · 147 · 148 · 149 · 150 · 151 · 152 · 153 · 154 · 155 · 156 · 157 · 158 · 159 · 160 · 161 · 162 · 163 · 164 · 165 · 166 · 167 · 168 · 169 · 170 · 171 · 172 · 173 · 174 · 175 · 176 · 177 · 178 · 179 · 180 · 181 · 182 · 183 · 184 · 185 · 186 · 187 · 188 · 189 · 190 · 191 · 192 · 193 · 194 · 195 · 196 · 197 · 198 · 199 · 200 · 201 · 202 · 203 · 204 · 205 · 206 · 207 · 208 · 209 · 210 · 211 · 212 · 213 · 214 · 215 · 216 · 217 · 218 · 219 · 220 · 221 · 222 · 223 · 224 · 225 · 226 · 227 · 228 · 229 · 230 · 231 · 232 · 233 · 234 · 235 · 236 · 237 · 238 · 239 · 240 · 241 · 242 · 243 · 244 · 245 · 246 · 247 · 248 · 249 · 250 · 251 · 252 · 253 · 254 · 255 · 256 · 257 · 258 · 259 · 260 · 261 · 262 · 263 · 264 · 265 · 266 · 267 · 268 · 269 · 270 · 271 · 272 · 273 · 274 · 275 · 276 · 277 · 278 · 279 · 280 · 281 · 282 · 283 · 284 · 285 · 286 · 287 · 288 · 289 · 290 · 291 · 292 · 293 · 294 · 295 · 296 · 297 · 298 · 299 · 300 · 301 · 302 · 303 · 304 · 305 · 306 · 307 · 308 · 309 · 310 · 311 · 312 · 313 · 314 · 315 · 316 · 317 · 318 · 319 · 320 · 321 · 322 · 323 · 324 · 325 · 326 · 327 · 328 · 329 · 330 · 331 · 332 · 333 · 334 · 335 · 336 · 337 · 338 · 339 · 340 · 341 · 342 · 343 · 344 · 345 · 346 · 347 · 348 · 349 · 350 · 351 · 352 · 353 · 354 · 355 · 356 · 357 · 358 · 359 · 360 · 361 · 362 · 363 · 364 · 365 · 366 · 367 · 368 · 369 · 370 · 371 · 372 · 373 · 374 · 375 · 376 · 377 · 378 · 379 · 380 · 381 · 382 · 383 · 384 · 385 · 386 · 387 · 388 · 389 · 390 · 391 · 392 · 393 · 394 · 395 · 396 · 397 · 398 · 399 · 400 · 401 · 402 · 403 · 404 · 405 · 406 · 407 · 408 · 409 · 410 · 411 · 412 · 413 · 414 · 415 · 416 · 417 · 418 · 419 · 420 · 421 · 422 · 423 · 424 · 425 · 426 · 427 · 428 · 429 · 430 · 431 · 432 · 433 · 434 · 435 · 436 · 437 · 438 · 439 · 440 · 441 · 442 · 443 · 444 · 445 · 446 · 447 · 448 · 449 · 450 · 451 · 452 · 453 · 454 · 455 · 456 · 457 · 458 · 459 · 460 · 461 · 462 · 463 · 464 · 465 · 466 · 467 · 468 · 469 · 470 · 471 · 472 · 473 · 474 · 475 · 476 · 477 · 478 · 479 · 480 · 481 · 482 · 483 · 484 · 485 · 486 · 487 · 488 · 489 · 490 · 491 · 492 · 493 · 494 · 495 · 496 · 497 · 498 · 499 · 500 · 501 · 502 · 503 · 504 · 505 · 506 · 507 · 543 · 565 · 566 · 579 · 585 · 614 · 639 · 653 · 654 · 655 · 656 · 657 · 658 · 659 · 660 · 661 · 669 · 676 · 685 · 700 · 798 · 823 · 824 · 825 · 826 · 827 · 828 · 829 · 830 · 831 · 876 · 891 · 892 · 893 · 1071 · 1143 · 1152 · 1241 · 1253 · 1423 · 1424 · 1432 · 1582 · 1739 · 1780 · 1813 · 1834 · 2053 · 2059 · 2060 · 2061 · 2062 · 2174 · 2268 · 2344 · 2423 · 2427 · 2437 · 2444 · 2445 · 2446 · 2460 · 2464 · 2491 · 2495 · 2612 · 2613 · 2614 · 2615 · 2616 · 2641 · 2754 · 2755 · 2756 · 2757 · 2766 · 2767 · 2768 · 2793 · 2802 · 2803 · 2804 · 2805 · 2806 · 2807 · 2808 · 2809 · 2810 · 2811 · 2812 · 2813 · 2814 · 2815 · 2816 · 2817 · 2818 · 2819 · 2820 · 2821 · 2855 · 2856 · 2857 · 2858 · 2859 · 2860 · 2861 · 2862 · 2863 · 2881 · 2882 ·
---