Minuscule 116
From Textus Receptus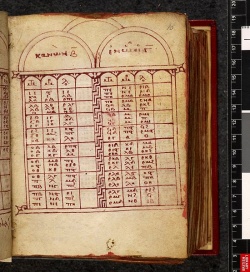 Minuscule 116 (in the Gregory-Aland numbering), ε 249 (Soden), is a Greek minuscule manuscript of the New Testament, on parchment leaves. Palaeographically it had been assigned to the 12th century.[1]
Description
The codex contains a complete text of the four Gospels on 300 parchment leaves (size 16.6 cm by 13.1 cm). Written in one column per page, in 23 lines per page.[1] The capital letters written in red.[2] It contains the Eusebian tables, tables of κεφαλαια, κεφαλαια, τιτλοι, αναγνωσεις, στιχοι, the Ammonian Sections (Mark 241 - 16:20), and synaxaria.[3] Menologion was added in the 13th century (folios 291-296v). Initials in colours. Scholia in red or purple. The end of John is written in cruciform format.[4]
The Greek text of the codex is a representative of the Byzantine text-type.[5]
History
In 1649 it belonged to Athananius, a Greek monk, in 1724 to Bernard Mould.[2] It was examined by Griesbach and Bloomfield.[3]
It is currently housed at the British Library (Harley Collection 5567), at London.[1]
See also
References
1. K. Aland, M. Welte, B. Köster, K. Junack, "Kurzgefasste Liste der griechischen Handschriften des Neues Testaments", Walter de Gruyter, Berlin, New York 1994, p. 53.
2. C. R. Gregory, "Textkritik des Neuen Testaments", Leipzig 1900, vol. 1, p. 154.
3. F. H. A. Scrivener, "A Plain Introduction to the Criticism of the New Testament" (George Bell & Sons: London 1894), pp. 210-211.
4. Harley 5566 at the British Library
5. Kurt Aland, and Barbara Aland, "The Text of the New Testament: An Introduction to the Critical Editions and to the Theory and Practice of Modern Textual Criticism", transl. Erroll F. Rhodes, William B. Eerdmans Publishing Company, Grand Rapids, Michigan, 1995, p. 138.
Further reading
Henri Omont, Notes sur les manuscrits grecs du British Museum, Bibliothèque de l'École des Chartes, 45 (1884), 314-50, 584 (pp. 342, 349).
Cyril Ernest Wright, Fontes Harleiani: A Study of the Sources of the Harleian Collection of Manuscripts in the British Museum (London: British Museum, 1972), pp. 246, 459.
External links
List of New Testament minuscules
1 · 2 · 3 · 4 · 5 · 6 · 7 · 8 · 9 · 10 · 11 · 12 · 13 · 14 · 15 · 16 · 17 · 18 · 19 · 20 · 21 · 22 · 23 · 24 · 25 · 26 · 27 · 28 · 29 · 30 · 31 · 32 · 33 · 34 · 35 · 36 · 37 · 38 · 39 · 40 · 41 · 42 · 43 · 44 · 45 · 46 · 47 · 48 · 49 · 50 · 51 · 52 · 53 · 54 · 55 · 56 · 57 · 58 · 59 · 60 · 61 · 62 · 63 · 64 · 65 · 66 · 67 · 68 · 69 · 70 · 71 · 72 · 73 · 74 · 75 · 76 · 77 · 78 · 79 · 80 · 81 · 82 · 83 · 84 · 85 · 86 · 87 · 88 · 89 · 90 · 91 · 92 · 93 · 94 · 95 · 96 · 97 · 98 · 99 · 100 · 101 · 102 · 103 · 104 · 105 · 106 · 107 · 108 · 109 · 110 · 111 · 112 · 113 · 114 · 115 · 116 · 117 · 118 · 119 · 120 · 121 · 122 · 123 · 124 · 125 · 126 · 127 · 128 · 129 · 130 · 131 · 132 · 133 · 134 · 135 · 136 · 137 · 138 · 139 · 140 · 141 · 142 · 143 · 144 · 145 · 146 · 147 · 148 · 149 · 150 · 151 · 152 · 153 · 154 · 155 · 156 · 157 · 158 · 159 · 160 · 161 · 162 · 163 · 164 · 165 · 166 · 167 · 168 · 169 · 170 · 171 · 172 · 173 · 174 · 175 · 176 · 177 · 178 · 179 · 180 · 181 · 182 · 183 · 184 · 185 · 186 · 187 · 188 · 189 · 190 · 191 · 192 · 193 · 194 · 195 · 196 · 197 · 198 · 199 · 200 · 201 · 202 · 203 · 204 · 205 · 206 · 207 · 208 · 209 · 210 · 211 · 212 · 213 · 214 · 215 · 216 · 217 · 218 · 219 · 220 · 221 · 222 · 223 · 224 · 225 · 226 · 227 · 228 · 229 · 230 · 231 · 232 · 233 · 234 · 235 · 236 · 237 · 238 · 239 · 240 · 241 · 242 · 243 · 244 · 245 · 246 · 247 · 248 · 249 · 250 · 251 · 252 · 253 · 254 · 255 · 256 · 257 · 258 · 259 · 260 · 261 · 262 · 263 · 264 · 265 · 266 · 267 · 268 · 269 · 270 · 271 · 272 · 273 · 274 · 275 · 276 · 277 · 278 · 279 · 280 · 281 · 282 · 283 · 284 · 285 · 286 · 287 · 288 · 289 · 290 · 291 · 292 · 293 · 294 · 295 · 296 · 297 · 298 · 299 · 300 · 301 · 302 · 303 · 304 · 305 · 306 · 307 · 308 · 309 · 310 · 311 · 312 · 313 · 314 · 315 · 316 · 317 · 318 · 319 · 320 · 321 · 322 · 323 · 324 · 325 · 326 · 327 · 328 · 329 · 330 · 331 · 332 · 333 · 334 · 335 · 336 · 337 · 338 · 339 · 340 · 341 · 342 · 343 · 344 · 345 · 346 · 347 · 348 · 349 · 350 · 351 · 352 · 353 · 354 · 355 · 356 · 357 · 358 · 359 · 360 · 361 · 362 · 363 · 364 · 365 · 366 · 367 · 368 · 369 · 370 · 371 · 372 · 373 · 374 · 375 · 376 · 377 · 378 · 379 · 380 · 381 · 382 · 383 · 384 · 385 · 386 · 387 · 388 · 389 · 390 · 391 · 392 · 393 · 394 · 395 · 396 · 397 · 398 · 399 · 400 · 401 · 402 · 403 · 404 · 405 · 406 · 407 · 408 · 409 · 410 · 411 · 412 · 413 · 414 · 415 · 416 · 417 · 418 · 419 · 420 · 421 · 422 · 423 · 424 · 425 · 426 · 427 · 428 · 429 · 430 · 431 · 432 · 433 · 434 · 435 · 436 · 437 · 438 · 439 · 440 · 441 · 442 · 443 · 444 · 445 · 446 · 447 · 448 · 449 · 450 · 451 · 452 · 453 · 454 · 455 · 456 · 457 · 458 · 459 · 460 · 461 · 462 · 463 · 464 · 465 · 466 · 467 · 468 · 469 · 470 · 471 · 472 · 473 · 474 · 475 · 476 · 477 · 478 · 479 · 480 · 481 · 482 · 483 · 484 · 485 · 486 · 487 · 488 · 489 · 490 · 491 · 492 · 493 · 494 · 495 · 496 · 497 · 498 · 499 · 500 · 501 · 502 · 503 · 504 · 505 · 506 · 507 · 543 · 565 · 566 · 579 · 585 · 614 · 639 · 653 · 654 · 655 · 656 · 657 · 658 · 659 · 660 · 661 · 669 · 676 · 685 · 700 · 798 · 823 · 824 · 825 · 826 · 827 · 828 · 829 · 830 · 831 · 876 · 891 · 892 · 893 · 1071 · 1143 · 1152 · 1241 · 1253 · 1423 · 1424 · 1432 · 1582 · 1739 · 1780 · 1813 · 1834 · 2053 · 2059 · 2060 · 2061 · 2062 · 2174 · 2268 · 2344 · 2423 · 2427 · 2437 · 2444 · 2445 · 2446 · 2460 · 2464 · 2491 · 2495 · 2612 · 2613 · 2614 · 2615 · 2616 · 2641 · 2754 · 2755 · 2756 · 2757 · 2766 · 2767 · 2768 · 2793 · 2802 · 2803 · 2804 · 2805 · 2806 · 2807 · 2808 · 2809 · 2810 · 2811 · 2812 · 2813 · 2814 · 2815 · 2816 · 2817 · 2818 · 2819 · 2820 · 2821 · 2855 · 2856 · 2857 · 2858 · 2859 · 2860 · 2861 · 2862 · 2863 · 2881 · 2882 ·
---