Matthew 23:9
From Textus Receptus
ΚΑΤΑ ΜΑΤΘΑΙΟΝ 23:9 καὶ πατέρα μὴ καλέσητε ὑμῶν ἐπὶ τῆς γῆς εἷς γάρ ἐστιν ὁ πατὴρ ὑμῶν ὁ ἐν τοῖς οὐρανοῖς
(Textus Receptus, Theodore Beza, 1598)
Matthew 23:9 And call no man your father upon the earth: for one is your Father, which is in heaven.
(King James Version, Pure Cambridge Edition)
Matthew 23:9 And do not call anyone on earth your father; because One is your Father, who is in heaven.
Interlinear
Commentary
Greek
Textus Receptus
Colinæus
See Also Matthew 1:1 Beza 1598 (Beza)
Elzevir
Scholz
Scrivener
Other Greek
1857 (Tregelles' Greek New Testament)
(Tischendorf 8th Ed.)
1881 (Westcott & Hort)
(Greek orthodox Church)
Anglo Saxon Translations
1000 (Anglo-Saxon Gospels Manuscript 140, Corpus Christi College by Aelfric)
1200 (Anglo-Saxon Gospels Hatton Manuscript 38, Bodleian Library by unknown author)
English Translations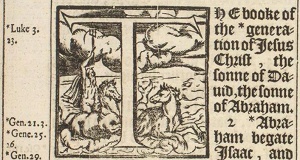 1745 (Mr. Whiston's Primitive New Testament)
1770 (Worsley Version by John Worsley)
1790 (Wesley Version by John Wesley)
1795 (A Translation of the New Testament from the Original Greek by Thomas Haweis)
1835 (Living Oracles by Alexander Campbell)
1851 (Murdock Translation)
1865 (The New Testament of Our Lord and Savior Jesus Christ 1865 by American Bible Union)
1869 (Noyes Translation by George Noyes)
1885 (Revised Version also called English Revised Version - Charles Ellicott editor)
1902 The Lineage Roll of Jesus Christ,––Son of David, Son of Abraham. (The Emphasised Bible Rotherham Version)
1902 (Translation of the New Testament from the Original Greek by William Godbey)
1904 (Twentieth Century New Testament by Ernest Malan and Mary Higgs)
1912 (Weymouth New Testament)
1918 (The New Testament Translated from the Sinaitic Manuscript by Henry Anderson)
Foreign Language Versions
ولا تدعوا لكم ابا على الارض لان اباكم واحد الذي في السموات. (Arabic Smith & Van Dyke)
ܘܐܒܐ ܠܐ ܬܩܪܘܢ ܠܟܘܢ ܒܐܪܥܐ ܚܕ ܗܘ ܓܝܪ ܐܒܘܟܘܢ ܕܒܫܡܝܐ ܀ (Aramaic Peshitta)
Eta çuen aita ezteçaçuela nehor dei lurrean: ecen bat da çuen Aita, ceruètan dena.
1940 И никого на земята недейте нарича свой отец, защото Един е вашият Отец, Небесният. (Bulgarian Bible)
1 也 不 要 称 呼 地 上 的 人 为 父 , 因 为 只 有 一 位 是 你 们 的 父 , 就 是 在 天 上 的 父 。 (Chinese Union Version (Simplified))
1 也 不 要 稱 呼 地 上 的 人 為 父 , 因 為 只 有 一 位 是 你 們 的 父 , 就 是 在 天 上 的 父 。 (Chinese Union Version (Traditional))
Et n'appelez personne sur la terre votre père; car un seul est votre père, celui qui est dans les cieux. (French Darby)
1744 Et n'appelez personne sur la terre [votre] père; car un seul est votre Père, lequel est dans les cieux. (Martin 1744)
1744 Et n'appelez personne sur la terre votre père; car vous n'avez qu'un seul Père, celui qui est dans les cieux. (Ostervald 1744)
1545 Und sollet niemand Vater heißen auf Erden; denn einer ist euer Vater, der im Himmel ist. (Luther 1545)
1871 Ihr sollt auch nicht jemand auf der Erde euren Vater nennen; denn einer ist euer Vater, der in den Himmeln ist. (Elberfelder 1871)
1912 Und sollt niemand Vater heißen auf Erden, denn einer ist euer Vater, der im Himmel ist. (Luther 1912)
1649 E non chiamate alcuno sopra la terra vostro padre; perciocchè un solo è vostro Padre, cioè, quel ch'è ne' cieli. (Giovanni Diodati Bible 1649)
1927 E non chiamate alcuno sulla terra vostro padre, perché uno solo è il Padre vostro, quello che è ne' cieli. (Riveduta Bible 1927)
et patrem nolite vocare vobis super terram unus enim est Pater vester qui in caelis est Latin Vulgate
1527 (Erasmus Vulgate 1527)
2010 Şi ,Tată` să nu numiţi pe nimeni pe pămînt; pentrucă Unul singur este Tatăl vostru: Acela care este în ceruri. (Biblia Traducerea Fidela în limba româna)
Phonetically:
Y vuestro padre no llaméis á nadie en la tierra; porque uno es vuestro Padre, el cual está en los cielos. (RVG Spanish)
1917 Ej heller skolen I kalla någon på jorden eder 'fader', ty en är eder Fader, han som är i himmelen. (Swedish - Svenska 1917)
1905 At huwag ninyong tawaging inyong ama ang sinomang tao sa lupa: sapagka't iisa ang inyong ama, sa makatuwid baga'y siya na nasa langit. (Ang Dating Biblia 1905)
1996 (Tok Pisin King Jems)
1934 Cũng đừng gọi người nào ở thế gian là cha mình; vì các ngươi chỉ có một Cha, là Ðấng ở trên trời. (VIET)
See Also
External Links