Matthew 23:5
From Textus Receptus
ΚΑΤΑ ΜΑΤΘΑΙΟΝ 23:5 πάντα δὲ τὰ ἔργα αὐτῶν ποιοῦσιν πρὸς τὸ θεαθῆναι τοῖς ἀνθρώποις· πλατύνουσιν δὲ τὰ φυλακτήρια αὐτῶν καὶ μεγαλύνουσιν τὰ κράσπεδα τῶν ἱματίων αὐτῶν
(Textus Receptus, Theodore Beza, 1598)
Matthew 23:5 But all their works they do for to be seen of men: they make broad their phylacteries, and enlarge the borders of their garments,
(King James Version, Pure Cambridge Edition)
Matthew 23:5 But they all do their works to be seen by men. They make their phylacteries broad, and broaden the borders of their garments.
Interlinear
Commentary
Greek
Textus Receptus
Colinæus
See Also Matthew 1:1 Beza 1598 (Beza)
Elzevir
Scholz
Scrivener
Other Greek
1857 (Tregelles' Greek New Testament)
(Tischendorf 8th Ed.)
1881 (Westcott & Hort)
(Greek orthodox Church)
Anglo Saxon Translations
1000 (Anglo-Saxon Gospels Manuscript 140, Corpus Christi College by Aelfric)
1200 (Anglo-Saxon Gospels Hatton Manuscript 38, Bodleian Library by unknown author)
English Translations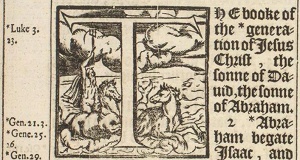 1745 (Mr. Whiston's Primitive New Testament)
1770 (Worsley Version by John Worsley)
1790 (Wesley Version by John Wesley)
1795 (A Translation of the New Testament from the Original Greek by Thomas Haweis)
1835 (Living Oracles by Alexander Campbell)
1851 (Murdock Translation)
1865 (The New Testament of Our Lord and Savior Jesus Christ 1865 by American Bible Union)
1869 (Noyes Translation by George Noyes)
1885 (Revised Version also called English Revised Version - Charles Ellicott editor)
1902 The Lineage Roll of Jesus Christ,––Son of David, Son of Abraham. (The Emphasised Bible Rotherham Version)
1902 (Translation of the New Testament from the Original Greek by William Godbey)
1904 (Twentieth Century New Testament by Ernest Malan and Mary Higgs)
1912 (Weymouth New Testament)
1918 (The New Testament Translated from the Sinaitic Manuscript by Henry Anderson)
Foreign Language Versions
وكل اعمالهم يعملونها لكي تنظرهم الناس. فيعرضون عصائبهم ويعظمون اهداب ثيابهم. (Arabic Smith & Van Dyke)
ܘܟܠܗܘܢ ܥܒܕܝܗܘܢ ܥܒܕܝܢ ܕܢܬܚܙܘܢ ܠܒܢܝ ܐܢܫܐ ܡܦܬܝܢ ܓܝܪ ܬܦܠܝܗܘܢ ܘܡܘܪܟܝܢ ܬܟܠܬܐ ܕܡܪܛܘܛܝܗܘܢ ܀ (Aramaic Peshitta)
Eta bere obra guciac eguiten dituzté guiçonéz ikus ditecençát: ecen çabaltzen dituzté bere philacterioac, eta luçatzen dituzté bere veztimendetaco bazterrac.
1940 Но вършат всичките си дела, за да ги виждат хората; защото разширяват филактериите си, и правят големи полите [на дрехите си], (Bulgarian Bible)
1 他 们 一 切 所 做 的 事 都 是 要 叫 人 看 见 , 所 以 将 佩 戴 的 经 文 做 宽 了 , 衣 裳 的 ? 子 做 长 了 , (Chinese Union Version (Simplified))
1 他 們 一 切 所 做 的 事 都 是 要 叫 人 看 見 , 所 以 將 佩 戴 的 經 文 做 寬 了 , 衣 裳 的 繸 子 做 長 了 , (Chinese Union Version (Traditional))
Et ils font toutes leurs oeuvres pour être vus des hommes; car ils élargissent leurs phylactères et donnent plus de largeur aux franges de leurs vêtements, (French Darby)
1744 Et ils font toutes leurs œuvres pour être regardés des hommes; car ils portent de larges phylactères, et de longues franges à leurs vêtements. (Martin 1744)
1744 Et ils font toutes leurs actions, afin que les hommes les voient; car ils portent de larges phylactères, et ils allongent les franges de leurs vêtements; (Ostervald 1744)
1545 Alle ihre Werke aber tun sie, daß sie von den Leuten gesehen werden. Sie machen ihre Denkzettel breit und die Säume an ihren Kleidern groß. (Luther 1545)
1871 Alle ihre Werke aber tun sie, um sich vor den Menschen sehen zu lassen; denn sie machen ihre Denkzettel breit und die Quasten (S. 4. Mose 15,37-39) groß. (Elberfelder 1871)
1912 Alle ihre Werke aber tun sie, daß sie von den Leuten gesehen werden. Sie machen ihre Denkzettel breit und die Säume an ihren Kleidern groß. (Luther 1912)
1649 E fanno tutte le loro opere per esser riguardati dagli uomini; ed allargano le lor filatterie, ed allungano le fimbrie delle lor veste. (Giovanni Diodati Bible 1649)
1927 Tutte le loro opere le fanno per essere osservati dagli uomini; difatti allargano le lor filatterie ed allungano le frange de' mantelli; (Riveduta Bible 1927)
omnia vero opera sua faciunt ut videantur ab hominibus dilatant enim phylacteria sua et magnificant fimbrias Latin Vulgate
1527 (Erasmus Vulgate 1527)
2010 Toate faptele lor le fac pentru ca să fie văzuţi de oameni. Astfel, îşi fac filacteriile late, îşi fac poalele veştmintelor cu ciucuri lungi; (Biblia Traducerea Fidela în limba româna)
1876 все же дела свои делают с тем, чтобы видели их люди: расширяют хранилища свои и увеличивают воскрилия одеждсвоих; Russian Synodal Version
Phonetically:
Antes, todas sus obras hacen para ser mirados de los hombres; porque ensanchan sus filacterias, y extienden los flecos de sus mantos; (RVG Spanish)
1917 Och alla sina gärningar göra de för att bliva sedda av människorna. De göra sina böneremsor breda och hörntofsarna på sina mantlar stora. (Swedish - Svenska 1917)
1905 Datapuwa't ginagawa nila ang lahat ng kanilang mga gawa upang mangakita ng mga tao: sapagka't nangagpapalapad sila ng kanilang mga pilakteria, at nangagpapalapad ng mga laylayan ng kanilang mga damit, (Ang Dating Biblia 1905)
1996 (Tok Pisin King Jems)
1934 Họ làm việc gì cũng cố để cho người ta thấy, mang cái thẻ bài da cho rộng, xủ cái tua áo cho dài; (VIET)
See Also
External Links