Matthew 23:22
From Textus Receptus
ΚΑΤΑ ΜΑΤΘΑΙΟΝ 23:22 καὶ ὁ ὀμόσας ἐν τῷ οὐρανῷ ὀμνύει ἐν τῷ θρόνῳ τοῦ θεοῦ καὶ ἐν τῷ καθημένῳ ἐπάνω αὐτοῦ
(Textus Receptus, Theodore Beza, 1598)
Matthew 23:22 And he that shall swear by heaven, sweareth by the throne of God, and by him that sitteth thereon.
(King James Version, Pure Cambridge Edition)
Matthew 23:22 And he who swears by heaven, swears by the throne of God, and by Him who sits on it.
Interlinear
Commentary
Greek
Textus Receptus
Colinæus
See Also Matthew 1:1 Beza 1598 (Beza)
Elzevir
Scholz
Scrivener
Other Greek
1857 (Tregelles' Greek New Testament)
(Tischendorf 8th Ed.)
1881 (Westcott & Hort)
(Greek orthodox Church)
Anglo Saxon Translations
1000 (Anglo-Saxon Gospels Manuscript 140, Corpus Christi College by Aelfric)
1200 (Anglo-Saxon Gospels Hatton Manuscript 38, Bodleian Library by unknown author)
English Translations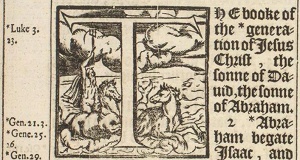 1745 (Mr. Whiston's Primitive New Testament)
1770 (Worsley Version by John Worsley)
1790 (Wesley Version by John Wesley)
1795 (A Translation of the New Testament from the Original Greek by Thomas Haweis)
1835 (Living Oracles by Alexander Campbell)
1851 (Murdock Translation)
1865 (The New Testament of Our Lord and Savior Jesus Christ 1865 by American Bible Union)
1869 (Noyes Translation by George Noyes)
1885 (Revised Version also called English Revised Version - Charles Ellicott editor)
1902 The Lineage Roll of Jesus Christ,––Son of David, Son of Abraham. (The Emphasised Bible Rotherham Version)
1902 (Translation of the New Testament from the Original Greek by William Godbey)
1904 (Twentieth Century New Testament by Ernest Malan and Mary Higgs)
1912 (Weymouth New Testament)
1918 (The New Testament Translated from the Sinaitic Manuscript by Henry Anderson)
Foreign Language Versions
ومن حلف بالسماء فقد حلف بعرش الله وبالجالس عليه. (Arabic Smith & Van Dyke)
ܘܡܢ ܕܝܡܐ ܒܫܡܝܐ ܝܡܐ ܒܟܘܪܤܝܗ ܕܐܠܗܐ ܘܒܡܢ ܕܝܬܒ ܠܥܠ ܡܢܗ ܀ (Aramaic Peshitta)
Eta iuratzen duenac ceruäz, iuratzen du Iaincoaren thronoaz eta haren gainean iarriric dagoenaz.
1940 И който се кълне в небето, заклева се в Божия престол и в Онзи, Който седи на него. (Bulgarian Bible)
1 人 指 着 天 起 誓 , 就 是 指 着 神 的 宝 座 和 那 坐 在 上 面 的 起 誓 。 (Chinese Union Version (Simplified))
1 人 指 著 天 起 誓 , 就 是 指 著 神 的 寶 座 和 那 坐 在 上 面 的 起 誓 。 (Chinese Union Version (Traditional))
et celui qui jure par le ciel, jure par le trône de Dieu et par celui qui est assis dessus. (French Darby)
1744 Et quiconque jure par le ciel, jure par le trône de Dieu, et par celui qui y est assis. (Martin 1744)
1744 Et celui qui jure par le ciel, jure par le trône de Dieu et par celui qui est assis dessus. (Ostervald 1744)
1545 Und wer da schwöret bei dem Himmel, der schwöret bei dem Stuhl Gottes und bei dem, der darauf sitzt. (Luther 1545)
1871 Und wer bei dem Himmel schwört, schwört bei dem Throne Gottes und bei dem, der darauf sitzt. (Elberfelder 1871)
1912 Und wer da schwört bei dem Himmel, der schwört bei dem Stuhl Gottes und bei dem, der darauf sitzt. (Luther 1912)
1649 E chi giura per lo cielo giura per lo trono di Dio, e per colui che siede sopra esso. (Giovanni Diodati Bible 1649)
1927 e chi giura per il cielo, giura per il trono di Dio e per Colui che vi siede sopra. (Riveduta Bible 1927)
et qui iurat in caelo iurat in throno Dei et in eo qui sedet super eum Latin Vulgate
1527 (Erasmus Vulgate 1527)
2010 şi cine jură pe cer, jură pe scaunul de domnie al lui Dumnezeu şi pe Celce şade pe el.` (Biblia Traducerea Fidela în limba româna)
Phonetically:
Y el que jura por el cielo, jura por el trono de Dios, y por Aquél que está sentado sobre él. (RVG Spanish)
1917 Och den som svär vid himmelen, han svär både vid Guds tron och vid honom som sitter därpå. (Swedish - Svenska 1917)
1905 Ang nanunumpa sa pamamagitan ng langit, ay ipinanumpa ang luklukan ng Dios, at yaong nakaluklok doon. (Ang Dating Biblia 1905)
1996 (Tok Pisin King Jems)
1934 còn ai chỉ trời mà thề, là chỉ ngôi của Ðức Chúa Trời và Ðấng ngự trên ngôi mà thề vậy. (VIET)
See Also
External Links