Minuscule 357
From Textus Receptus
Minuscule 357 (in the Gregory-Aland numbering), A135 (Soden), is a Greek minuscule manuscript of the New Testament, on parchment. Paleographically it had been assigned to the 11th century.[1]
Description
The codex contains the text of the Gospel of Luke and Gospel of John on 281 parchment leaves (32 cm by 21.5 cm) with catena. Written in one column per page, in 35 lines per page.[1] It contains lists of κεφαλαια, κεφαλαια, τιτλοι, lectionary markings.[2]
Text
The Greek text of the codex is a representative of the Byzantine text-type. Aland placed it in Category V.[3]
History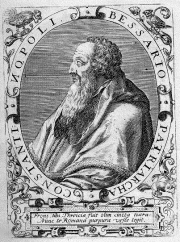 The manuscript once belonged to Cardinal Bessarion (as codices 205, 354). In 1722 it was in the hands of Hieronymus Venerius.[2] The manuscript was added to the list of New Testament manuscripts by Scholz (1794-1852).[4] It was examined by Burgon.
The manuscript is currently housed at the Biblioteca Marciana (Gr. Z. 28) in Venice.[1]
See also
References
Further reading
External links