Luke 1:35
From Textus Receptus
ΚΑΤΑ ΛΟΥΚΑΝ 1:35 καὶ ἀποκριθεὶς ὁ ἄγγελος εἶπεν αὐτῇ, Πνεῦμα Ἅγιον ἐπελεύσεται ἐπὶ σέ, καὶ δύναμις ὑψίστου ἐπισκιάσει σοι· διὸ καὶ τὸ γεννώμενον ἐκ σοῦ ἅγιον κληθήσεται υἱὸς Θεοῦ.
(Textus Receptus, Novum Testamentum, Theodore Beza, 4th folio edition. Geneva. 1598)
Luke 1:35 And the angel answered and said unto her, The Holy Ghost shall come upon thee, and the power of the Highest shall overshadow thee: therefore also that holy thing which shall be born of thee shall be called the Son of God.
(King James Version, Pure Cambridge Edition 1900)
Luke 1:35 And the angel answered and said to her, "The Holy Spirit will come upon you and the power of the Highest will over-shadow you; therefore, also, that holy One who will be born of you will be called the Son of God.
(King James Version 2016 Edition, 2016)
Interlinear
Commentary
Greek
Textus Receptus
Colinæus
See Also Luke 1:35 Beza 1598 (Beza)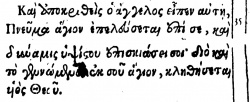 Elzevir
Scholz
Scrivener
1894 καὶ ἀποκριθεὶς ὁ ἄγγελος εἶπεν αὐτῇ, Πνεῦμα Ἅγιον ἐπελεύσεται ἐπὶ σέ, καὶ δύναμις ὑψίστου ἐπισκιάσει σοι· διὸ καὶ τὸ γεννώμενον ἐκ σοῦ ἅγιον κληθήσεται υἱὸς Θεοῦ.
Other Greek
1857 (Tregelles' Greek New Testament)
(Tischendorf 8th Ed.)
1881 (Westcott & Hort)
(Greek orthodox Church)
Anglo Saxon Translations
1000 (Anglo-Saxon Gospels Manuscript 140, Corpus Christi College by Aelfric)
1200 (Anglo-Saxon Gospels Hatton Manuscript 38, Bodleian Library by unknown author)
English Translations
Foreign Language Versions
See also Bible translations into Afrikaans
1671 Biblia Arabica. de propaganda fide. Arabic and Latin Bible printed in Rome by Abraham Ecchellensis and Louis Maracci
فاجاب الملاك وقال لها. الروح القدس يحل عليك وقوة العلي تظللك فلذلك ايضا القدوس المولود منك يدعى ابن الله. (Arabic Smith & Van Dyke)
1988 Arabic Life Application Bible (ALAB) Copyright © 1988 by Biblica
2009 Arabic Bible: Easy-to-Read Version (ERV-AR) Copyright © 2009 by World Bible Translation Center
1571 Eta ihardesten çuela Aingueruäc erran cieçón, Spiritu saindua hire gainera ethorriren dun eta Subiranoaren verthuteac itzal eguinen draun eta halacotz hitaric sorthuren den saindua, Iaincoaren Seme deithuren dun.
1940 И ангелът в отговор й рече: Светият Дух ще дойде върху ти, и силата на Всевишния ще те осени; за туй, и светото Онова, Което ще се роди [от тебе], ще се нарече Божий Син. (1940 Bulgarian Bible)
(Лука 1:35) И ангелът в отговор й рече: Светият Дух ще дойде върху ти, и силата на Всевишния ще те осени; за туй, и светото Онова, Което ще се роди [от тебе], ще се нарече Божий Син. (Bulgarian Bible)
1860 Cherokee New Testament (CHR)
Et l'ange repondant, lui dit: L'Esprit Saint viendra sur toi, et la puissance du Tres-haut te couvrira de son ombre; c'est pourquoi aussi la sainte chose qui naitra sera appelee Fils de Dieu. (French Darby)
1744 Et l'Ange répondant lui dit : le Saint-Esprit surviendra en toi, et la vertu du Souverain t'enombrera; c'est pourquoi ce qui naîtra [de toi] Saint, sera appelé le Fils de Dieu. (Martin 1744)
1744 (Ostervald 1744)
1864 (Augustin Crampon)
1545 (Luther 1545)
1871 (Elberfelder 1871)
1912 Der Engel antwortete und sprach zu ihr: Der heilige Geist wird über dich kommen, und die Kraft des Höchsten wird dich überschatten; darum wird auch das Heilige, das von dir geboren wird, Gottes Sohn genannt werden. (Luther 1912)
1904 (Greek Orthodox (B. Antoniades))
Modern Greek (Trinitarian Bible Society)
1649 E l'angelo, rispondendo, le disse: Lo Spirito Santo verrà sopra te, e la virtù dell'Altissimo ti adombrerà; per tanto ancora ciò che nascerà da te Santo sarà chiamato Figliuol di Dio. (Giovanni Diodati Bible 1649)
1927 E l'angelo, rispondendo, le disse: Lo Spirito Santo verrà su di te e la potenza dell'Altissimo ti coprirà dell'ombra sua; perciò ancora il santo che nascerà sarà chiamato Figliuolo di Dio. (Riveduta Bible 1927)
Khmer
1833 (Potawatomi Matthew and Acts)
1876 Ангел сказал Ей в ответ: Дух Святый найдет на Тебя, и сила Всевышнего осенит Тебя; посему и рождаемое Святое наречется Сыном Божиим. Russian Synodal Version
Phonetically:
Sanskrit
Shur
See Also Bible translations (Spanish)
Malaika akamjibu, "Roho Mtakatifu atakushukia, na uwezo wake Mungu Mkuu utakujia kama kivuli; kwa sababu hiyo, mtoto atakayezaliwa ataitwa Mtakatifu, Mwana wa Mungu.
1917 Ängeln svarade och sade till henne: »Helig ande skall komma över dig, och kraft från den Högste skall överskygga dig; därför skall ock det heliga som varder fött kallas Guds Son. (Swedish - Svenska 1917)
1905 At sumagot ang anghel, at sinabi sa kaniya, Bababa sa iyo ang Espiritu Santo, at lililiman ka ng kapangyarihan ng Kataastaasan: kaya naman ang banal na bagay na ipanganganak ay tatawaging Anak ng Dios. (Ang Dating Biblia 1905)
Thai
(Thai KJV)
1934 Thiên sứ truyền rằng: Ðức Thánh Linh sẽ đến trên ngươi, và quyền phép Ðấng Rất Cao sẽ che phủ ngươi dưới bóng mình, cho nên con thánh sanh ra, phải xưng là Con Ðức Chúa Trời. (Lu-ca 1:35 Vietnamese Bible) (VIET)
See Also
External Links