Modern English Version
From Textus Receptus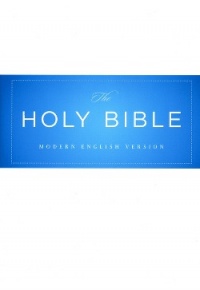 Modern English Version (MEV) is an English translation of the Bible begun in 2005 and completed in 2014. The work was edited by James F. Linzey, and is an update of the King James Version (KJV), re-translated from the Masoretic Text and the Textus Receptus. The ecumenical Committee on Bible Translation (Committee) is composed of 47 American and English scholars from the three major branches of Christendom: Orthodox, Protestant, and Roman Catholic.
History
In June 2005, Southern Baptist minister, chief editor, and executive director Rev. James F. Linzey assembled and directed the Committee on Bible Translation, which included Stanley M. Horton serving as the senior editorial advisor. The Committee claims to have produced an updated edition of the KJV called the MEV, which is the KJV in a more modern English vernacular. The translators began the work on June 2, 2005; they completed the New Testament on October 25, 2011, and the Old Testament on May 28, 2014.
Committee members include Eugene C. Ulrich, Stephen L. Herring, Eric Mitchell, Edward W. Watson, and T.J. Betts. The scholars working on the translation represent many academic institutions as professors or graduates, including Fuller Theological Seminary, Geneva College, Harvard University, Oxford Centre for Hebrew and Jewish Studies, Southwestern Baptist Theological Seminary, University of Notre Dame, Yale University, and others; and they represent many churches across a wide range of denominations, including the Church of England, Evangelical Lutheran Church in America, General Council of the Assemblies of God, Presbyterian Church of America, Southern Baptist Convention, and others.
Translation Philosophy
The Committee re-translated the Textus Receptus and the Jacob ben Hayyim edition of the Masoretic Text, using the KJV as a reference. The translators adhered to the principle of formal equivalence.
Old Testament
In Isaiah 58:8 they change the KJV's "rereward (pronounced rear-ward)," which is often modernised as "rear guard," into "reward," revealing that the 47 translators totally misunderstood the correct meaning of the archaic rereward, and also that they really didn't do real checks and balances like the men in 1611. The '47 translators' sales pitch is merely to create a false association with the KJV so that people would assume that it went through the same cross checking filtration processes the 1611 did, which was at least 14 times according to Bancroft's translation rules. I doubt it even went through two cross checks in this verse. It is clearly an error and reveals their incompetence. It appears that they just saw the KJV's rereward and assumed it was reward not even checking the NKJV. It also reveals that they didn't go into the Hebrew at all.
New Testament
KJV "Jesus saith unto her, Touch me not; for I am not yet ascended to my Father: but go to my brethren, and say unto them, I ascend unto my Father, and your Father; and to my God, and your God."
MEV "Jesus said to her, "Stop holding on to Me, for I have not yet ascended to My Father. But go to My brothers and tell them, 'I am ascending to My Father and your Father, to My God and your God.' "
KJV "That if thou shalt confess with thy mouth the Lord Jesus, and shalt believe in thine heart that God hath raised him from the dead, thou shalt be saved."
MEV "that if you confess with your mouth Jesus is Lord, and believe in your heart that God has raised Him from the dead, you will be saved." [emphasis added]
KJV For some, when they had heard, did provoke: howbeit not all that came out of Egypt by Moses.
MEV for who were they who heard and rebelled? Was it not all of those who came out of Egypt, led by Moses?
The MEV changes the wording of the KJV from a statement to a question. They changed the KJV and made an untruth, because we know from the Old Testament that Joshua and Caleb didn't rebel and came out with Moses.
The KJV has "baptisms" the MEV has "washings." There is no Foundational doctrine of the New Testament Christian Church of "washings" that Jesus taught. It should be "baptisms."
MEV "So always tell each other the wrong things you have done. Then pray for each other. Do this so that God can heal you. Anyone who lives the way God wants can pray, and great things will happen."
KJV "Confess your faults one to another, and pray one for another, that ye may be healed. The effectual fervent prayer of a righteous man availeth much."
MEV footnote:
"The earliest Greek manuscripts lack in heaven: the Father, the Word, and the Holy Spirit, and the three are one. There are three that testify on earth."
References
External Links