Harleian Collection
From Textus Receptus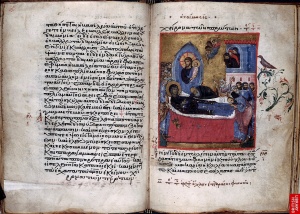 The Harleian Collection (or Harley Collection) is one of main collections of the British Library, London, England.
The manuscript collection of more than 7,000 volumes, more than 14,000 original legal documents, and 500 rolls, formed by Robert Harley (1661–1724), and his son Edward Harley (1689-1741). In 1753, it was purchased for £10,000 by the British government and together with the collections of Robert Bruce Cotton (1571–1631), and Hans Sloane were formed the basis of the British Museum library (after 1973 British Library).[]
The collection contains illuminated manuscripts spanning the early Middle Ages to the Renaissance. The manuscripts came from France, Germany and Italy.
See also
References
Further reading
British Library Journal vol. 15 (1989) is devoted to Robert Harley and his collections.
C. E. and C. R. Wright, eds. The Diary of Humfrey Wanley 1715–1726, 2 vols (London, 1966).
External links