The Cradle King
From Textus Receptus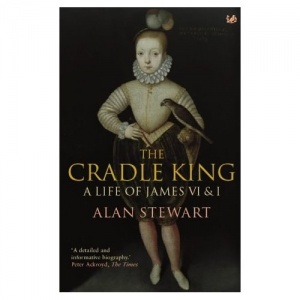 The Cradle King. A Life of James VI & I. is a biography.
As the son of Mary Queen of Scots, born into her 'bloody nest', James had the most precarious of childhoods. Even before his birth, his life was threatened: it was rumoured that his father, Henry, had tried to make the pregnant Mary miscarry by forcing her to witness the assassination of her supposed lover, David Riccio. By the time James was one year old, Henry was murdered, possibly with the connivance of Mary; Mary was in exile in England; and James was King of Scotland. By the age of five, he had experienced three different regents as the ancient dynasties of Scotland battled for power and made him a virtual prisoner in Stirling Castle. In fact, James did not set foot outside the confines of Stirling until he was eleven, when he took control of his country. But even with power in his hands, he would never feel safe. For the rest of his life, he would be caught up in bitter struggles between the warring political and religious factions who sought control over his mind and body. Yet James believed passionately in the divine right of kings, as many of his writings testify.
He became a seasoned political operator, carefully avoiding controversy, even when his mother Mary was sent to the executioner by Elizabeth I. His caution and politicking won him the English throne on Elizabeth's death in 1603 and he rapidly set about trying to achieve his most ardent ambition: the Union of the two kingdoms. Alan Stewart's impeccably researched new biography makes brilliant use of original sources to bring to life the conversations and the controversies of the Jacobean age. From James's 'inadvised' relationships with a series of favourites and Gentlemen of the Bedchamber to his conflicts with a Parliament which refused to fit its legislation to the Monarch's will, Stewart lucidly untangles the intricacies of James's life. In doing so, he uncovers the extent to which Charles I's downfall was caused by the cracks that appeared in the monarchy during his father's reign. While containing alot of sound factual information, it misreads many sayings and situations in an attempt to make the King and those around him seem to be homosexual, or at the least, immoral.
Alan Stewart. (438 pages)