Immanuel Tremellius
From Textus Receptus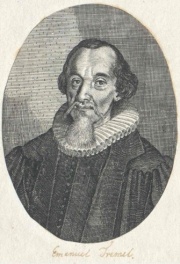 Immanuel Tremellius (Giovanni Emmanuele Tremellio; 1510 – 9 October 1580) was an Italian Jewish convert to Christianity. He was known as a leading Hebraist and Bible translator.
Life
He was born at Ferrara, and educated at the University of Padua. He was converted about 1540 to the Catholic faith through Cardinal Pole, but embraced Protestantism in the following year, and went to Strasbourg to teach Hebrew.
Owing to the Schmalkaldic War in Germany he was compelled to seek asylum in England, where he resided at Lambeth Palace with Archbishop Cranmer in 1547. In 1549 he succeeded Paul Fagius as Regius professor of Hebrew at Cambridge.
On the death of Edward VI of England he returned to Germany in 1553. At Zweibrücken he was imprisoned as a Calvinist.[1] He became professor of Old Testament at the University of Heidelberg in 1561, and remained there until he was released from his post in 1577. He ultimately found refuge at the College of Sedan, where he died. According to Morison, "when dying reversed his nation's decision, and exclaimed, Not Barabbas, but Jesus! (Vivat Christus, et pereat Barabbas!)."[2]
Works
His chief literary work was a Latin translation of the Bible from the Hebrew and Syriac. The New Testament translation, by Theodore Beza, appeared in 1569, at Geneva. The five parts relating to the Old Testament were published at Frankfurt between 1575 and 1579, in London in 1580, and in numerous later editions. The work was joint with Franciscus Junius (the elder), his son-in-law. This translation was favored by John Milton.[3]
Tremellius also translated John Calvin's Geneva Catechism into Hebrew (Paris, 1551), and wrote a "Chaldaic" and Syriac grammar (Paris, 1569).
See also
References
1. Nicholas Barker, 'The Perils of Publishing in the Sixteenth Century: Pietro Bizari and William Parry, Two Elizabethan Misfits', in Edward Chaney and Peter Mack (editors), England and the Continental Renaissance: Essays in Honour of J. B. Trapp (1990), pp. 125-6.
2. James Morison, A Practical Commentary on the Gospel According St. Matthew, (London: Hodder and Stoughton, 1902), p. 581.
3. William B. Hunter, John T. Shawcross (editors), Milton Encyclopedia (1981), p. 88.</ref> It was used also by John Donne for his version of Lamentations.<ref>David L. Jeffrey, A Dictionary of Biblical Tradition in English (1992), p. 433.
4.
Further reading
Kenneth Austin (2007), From Judaism to Calvinism: The Life and Writings of Immanuel Tremellius (c. 1510-1580)
Dagmar Drüll, Heidelberger Gelehrtenlexikon 1386-1651, Berlin: Springer, 2002, pp. 532–533.
W. Becker: Immanuel Tremellius, ein Proselytenleben im Zeitalter der Reformation, 1890
External links