Edward F. Hills
From Textus Receptus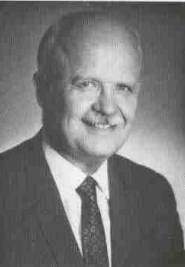 Edward Freer Hills (1912–1981) was an American Presbyterian scholar, perhaps the greatest 20th Century Traditional ("Byzantine") Text, and Received Text defender.[1][2] Dr. Hills integrates his theological perspective alongside New Testament criticism.
Reading Dean John William Burgon inspired Dr. Hills to approach textual criticism from a "logic of faith" (1952 is the year that Dr. Hills made a definite commitment to this view).[3] As to the relationship of the King James Bible to the Received Text, Hills wrote "the King James Version ought to be regarded not merely as a translation of the Textus Receptus but also as an independent variety of the Textus Receptus."[4]
Education
Graduated summa cum laude at Yale University (1930–1933)[5][6]
Th.D. from Westminster Theological Seminary (ca. 1935)
Th.M. from Columbia Theological Seminary
Th.D. in New Testament textual criticism from Harvard under the supervision of Henry J. Cadbury, Kirsopp Lake as one of the readers[7]
Books by Dr. Hills
The King James Version Defended: A Christian View of the New Testament Manuscripts (1956). ISBN 0-915923-00-9.
Believing Bible Study. First edition, 1967; Second edition, 1977, Third edition, 1991. ISBN 0-915923-01-7.
See Also
External Links
Notes
1. One Bible only?: examining exclusive claims for the King James Bible Roy E. Beacham, Kevin T. Bauder p48 - 2001 "Edward F. Hills - Another individual who made a sizable contribution to the KingJames-Only movement, although not drawing directly from the works of Wilkinson and Ray, is Edward F. Hills (1912-1981). Hills actually possessed genuine ..."
2. James D. Price (who isn't a KJO proponent) alludes to this in: King James Onlyism: A New Sect, 2006 pg. 263
3. This statement can be seen in the 2nd to last paragraph of The Testimony of Dr. Edward F. Hills by David Cloud
5. See the Robert Barnett's contribution at http://www.deanburgonsociety.org/KJBible/barnett91.htm.
6. I am assuming since Dr. Hills mentioned that he was a sophomore at Yale in 1931, that would mean his years of study at Yale would most likely be around 1930-33.
7. Hills Revisited by John Whitmer