Bibliothèque nationale de France
From Textus Receptus
The Bibliothèque nationale de France (BnF) is the National Library of France, located in Paris. It is intended to be the repository of all that is published in France. The current president of the library is Bruno Racine.
History
The National Library of France traces its origin to the royal library founded at the Louvre by Charles V in 1368. It expanded under Louis XIV and opened to the public in 1692. The library's collections swelled to over 300,000 volumes during the radical phase of the French Revolution when the private libraries of aristocrats and clergy were seized.
Following the series of regime changes in France, it became the Imperial National Library and in 1868 was moved to newly constructed buildings on the rue de Richelieu designed by Henri Labrouste.
New buildings
On 14 July 1988, President François Mitterrand announced the construction and the expansion of one of the largest and most modern libraries in the world, intended to cover all fields of knowledge, and designed to be accessible to all, using the most modern data transfer technologies, which could be consulted from a distance, and which would collaborate with other European buildings. The library does maintain a wireless network. In July 1989, the services of the architectural firm of Dominique Perrault were retained. The construction was carried out by Bouygues.<ref>Bouygues website: Bibliothèque nationale de France</ref> After the move of the major collections from the rue de Richelieu, the National Library of France opened to the public on 20 December 1995. It contains more than twenty million volumes.
The library retains the use of the rue de Richelieu complex for some of its collections.
Mission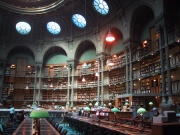 The National Library of France is a public establishment under the supervision of the Ministry of Culture. Its mission is to constitute collections, especially the copies of works published in France that must, by law, be deposited there, conserve them, and make them available to the public. It produces a reference catalogue, cooperates with other national and international establishments, and participates in research programs.
Greek manuscripts
The library holds about 5,000 Greek manuscripts, which are divided into three fonds: fonds grec, fonds Coislin, and supplément grec.
Gallica
In 1997 the digital library was established for online users. As of April 2006, Gallica made available on the Web: 90,000 scanned volumes, 1,200 full-text volumes, 500 audio documents, and 80,000 images.
See also
References
External links