Matthew 15:13
From Textus Receptus
(Difference between revisions)
Line 194:
Line 194:

====[[Aramaic]]====

====[[Aramaic]]====

-

* <big></big>(Aramaic Peshitta)

+

* <big></big>(Aramaic Peshitta)

====[[Basque]]====

====[[Basque]]====
---
Revision as of 17:17, 25 July 2012
(Textus Receptus, Theodore Beza, 1598)
Matthew 15:13 But he answered and said, Every plant, which my heavenly Father hath not planted, shall be rooted up.
(King James Version, Pure Cambridge Edition)
Interlinear
Commentary
Greek
Textus Receptus
Colinæus
See Also Matthew 1:1 Beza 1598 (Beza)
Elzevir
Scholz
Scrivener
Other Greek
1857 (Tregelles' Greek New Testament)
(Tischendorf 8th Ed.)
1881 (Westcott & Hort)
(Greek orthodox Church)
Anglo Saxon Translations
1000 (Anglo-Saxon Gospels Manuscript 140, Corpus Christi College by Aelfric)
1200 (Anglo-Saxon Gospels Hatton Manuscript 38, Bodleian Library by unknown author)
English Translations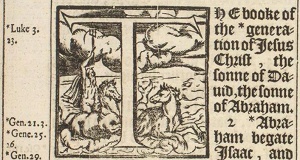 1745 (Mr. Whiston's Primitive New Testament)
1770 (Worsley Version by John Worsley)
1790 (Wesley Version by John Wesley)
1795 (A Translation of the New Testament from the Original Greek by Thomas Haweis)
1835 (Living Oracles by Alexander Campbell)
1851 (Murdock Translation)
1865 (The New Testament of Our Lord and Savior Jesus Christ 1865 by American Bible Union)
1869 (Noyes Translation by George Noyes)
1885 (Revised Version also called English Revised Version - Charles Ellicott editor)
1902 The Lineage Roll of Jesus Christ,––Son of David, Son of Abraham. (The Emphasised Bible Rotherham Version)
1902 (Translation of the New Testament from the Original Greek by William Godbey)
1904 (Twentieth Century New Testament by Ernest Malan and Mary Higgs)
1912 (Weymouth New Testament)
1918 (The New Testament Translated from the Sinaitic Manuscript by Henry Anderson)
Foreign Language Versions
فاجاب وقال كل غرس لم يغرسه ابي السماوي يقلع. (Arabic Smith & Van Dyke)
ܗܘ ܕܝܢ ܥܢܐ ܘܐܡܪ ܠܗܘܢ ܟܠ ܢܨܒܬܐ ܐܝܕܐ ܕܠܐ ܢܨܒܗ ܐܒܝ ܕܒܫܡܝܐ ܬܬܥܩܪ ܀ (Aramaic Peshitta)
Eta harc ihardesten çuela erran ceçan, Ene Aita ceruètacoac landatu eztuen landare gucia erroetaric idoquiren da.
1940 А Той в отговор рече: Всяко растение, което Моят небесен Отец не е насадил, ще се изкорени. (Bulgarian Bible)
1 耶 稣 回 答 说 : 凡 栽 种 的 物 , 若 不 是 我 天 父 栽 种 的 , 必 要 拔 出 来 。 (Chinese Union Version (Simplified))
1 耶 穌 回 答 說 : 凡 栽 種 的 物 , 若 不 是 我 天 父 栽 種 的 , 必 要 拔 出 來 。 (Chinese Union Version (Traditional))
Mais lui, répondant, dit: Toute plante que mon Père céleste n'a pas plantée sera déracinée. (French Darby)
1744 Et il répondit, et dit : toute plante que mon Père céleste n'a pas plantée, sera déracinée. (Martin 1744)
1744 Mais il répondit: Toute plante que mon Père céleste n'a point plantée, sera déracinée. (Ostervald 1744)
1545 Aber er antwortete und sprach: Alle Pflanzen, die mein himmlischen Vater nicht gepflanzet, die werden ausgereutet. (Luther 1545)
1871 Er aber antwortete und sprach: Jede Pflanze, die mein himmlischer Vater nicht gepflanzt hat, wird ausgerottet werden. (Elberfelder 1871)
1912 Aber er antwortete und sprach: Alle Pflanzen, die mein himmlischer Vater nicht pflanzte, die werden ausgereutet. (Luther 1912)
1649 Ed egli, rispondendo, disse: Ogni pianta che il padre mio celeste non ha piantata sarà diradicata. (Giovanni Diodati Bible 1649)
1927 Ed egli rispose loro: Ogni pianta che il Padre mio celeste non ha piantata, sarà sradicata. (Riveduta Bible 1927)
at ille respondens ait omnis plantatio quam non plantavit Pater meus caelestis eradicabitur Latin Vulgate
1527 (Erasmus Vulgate 1527)
2010 Drept răspuns, El le -a zis: ,,Orice răsad, pe care nu l -a sădit Tatăl Meu cel ceresc, va fi smuls din rădăcină. (Biblia Traducerea Fidela în limba româna)
Phonetically:
Mas respondiendo él, dijo: Toda planta que no plantó mi Padre celestial, será desarraigada. (RVG Spanish)
1917 Men han svarade och sade: »Var planta som min himmelske Fader icke har planterat skall ryckas upp med rötterna. (Swedish - Svenska 1917)
1905 Datapuwa't sumagot siya at sinabi, Ang bawa't halamang hindi itinanim ng aking Ama na nasa kalangitan, ay bubunutin. (Ang Dating Biblia 1905)
1996 (Tok Pisin King Jems)
1934 Ngài đáp rằng: Cây nào mà Cha ta trên trời không trồng, thì phải nhổ đi. (VIET)
See Also
External Links