Samuel Ward
From Textus Receptus
First Westminster Company,
translated from 1 Chronicles to the Song of Solomon:
translated the Gospels, Acts of the Apostles, and the Book of Revelation:
Second Westminster Company,
translated the Epistles:
Second Cambridge Company,
translated the Apocrypha: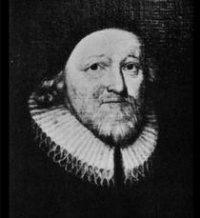 Samuel Ward (1577 — 1639) was an English academic and a master at the University of Cambridge.
Born in Haverhill, Suffolk, he attended Christ's College, Cambridge as a student, and was ultimately Master of Sidney Sussex College, Cambridge. He was a Puritan who wrote extensively on doctrinal issues.
Ward was one of the scholars involved with the translation and preparation of the King James Version of the Bible. He served in the "Second Cambridge Company" charged with translating the Apocrypha.
Ward also designed and made the Double Deliverance, a woodcut.
Ward was the eldest of three brothers, all Puritans. One brother was Nathaniel Ward, whose book The Body of Liberties directly influenced to the first United States Constitution.
See Also
New book available with irrefutable evidence for the reading in the TR and KJV.
Revelation 16:5 and the Triadic Declaration - A defense of the reading of "shalt be" in the Authorized Version

1 ·

2 ·

3 ·

4 ·

5 ·

6 ·

7 ·

8 ·

9 ·

10 ·

11 ·

12 ·

13 ·

14 ·

15 ·

16 ·

17 ·

18 ·

19 ·

20 ·

21 ·

22 ·

23 ·

24 ·

25 ·

26 ·

27 ·

28 ·

29 ·

30 ·

31 ·

32 ·

33 ·

34 ·

35 ·

36 ·

37 ·

38 ·

39 ·

40 ·

41 ·

42 ·

43 ·

44 ·

45 ·

46 ·

47 ·

48 ·

49 ·

50 ·

51 ·

52 ·

53 ·

54 ·

55 ·

56 ·

57 ·

58 ·

59 ·

60 ·

61 ·

62 ·

63 ·

64 ·

65 ·

66 ·

67 ·

68 ·

69 ·

70 ·

71 ·

72 ·

73 ·

74 ·

75 ·

76 ·

77 ·

78 ·

79 ·

80 ·

81 ·

82 ·

83 ·

84 ·

85 ·

86 ·

87 ·

88 ·

89 ·

90 ·

91 ·

92 ·

93 ·

94 ·

95 ·

96 ·

97 ·

98 ·

99 ·

100 ·

101 ·

102 ·

103 ·

104 ·

105 ·

106 ·

107 ·

108 ·

109 ·

110 ·

111 ·

112 ·

113 ·

114 ·

115 ·

116 ·

117 ·

118 ·

119 ·

120 ·

121 ·

122 ·

123 ·

124 ·

125 ·

126 ·

127 ·

128 ·

129 ·

130 ·

131 ·

132 ·

133 ·

134 ·

135 ·

136 ·

137 ·

138 ·

139 ·

140 ·
---
List of New Testament minuscules
1 · 2 · 3 · 4 · 5 · 6 · 7 · 8 · 9 · 10 · 11 · 12 · 13 · 14 · 15 · 16 · 17 · 18 · 19 · 20 · 21 · 22 · 23 · 24 · 25 · 26 · 27 · 28 · 29 · 30 · 31 · 32 · 33 · 34 · 35 · 36 · 37 · 38 · 39 · 40 · 41 · 42 · 43 · 44 · 45 · 46 · 47 · 48 · 49 · 50 · 51 · 52 · 53 · 54 · 55 · 56 · 57 · 58 · 59 · 60 · 61 · 62 · 63 · 64 · 65 · 66 · 67 · 68 · 69 · 70 · 71 · 72 · 73 · 74 · 75 · 76 · 77 · 78 · 79 · 80 · 81 · 82 · 83 · 84 · 85 · 86 · 87 · 88 · 89 · 90 · 91 · 92 · 93 · 94 · 95 · 96 · 97 · 98 · 99 · 100 · 101 · 102 · 103 · 104 · 105 · 106 · 107 · 108 · 109 · 110 · 111 · 112 · 113 · 114 · 115 · 116 · 117 · 118 · 119 · 120 · 121 · 122 · 123 · 124 · 125 · 126 · 127 · 128 · 129 · 130 · 131 · 132 · 133 · 134 · 135 · 136 · 137 · 138 · 139 · 140 · 141 · 142 · 143 · 144 · 145 · 146 · 147 · 148 · 149 · 150 · 151 · 152 · 153 · 154 · 155 · 156 · 157 · 158 · 159 · 160 · 161 · 162 · 163 · 164 · 165 · 166 · 167 · 168 · 169 · 170 · 171 · 172 · 173 · 174 · 175 · 176 · 177 · 178 · 179 · 180 · 181 · 182 · 183 · 184 · 185 · 186 · 187 · 188 · 189 · 190 · 191 · 192 · 193 · 194 · 195 · 196 · 197 · 198 · 199 · 200 · 201 · 202 · 203 · 204 · 205 · 206 · 207 · 208 · 209 · 210 · 211 · 212 · 213 · 214 · 215 · 216 · 217 · 218 · 219 · 220 · 221 · 222 · 223 · 224 · 225 · 226 · 227 · 228 · 229 · 230 · 231 · 232 · 233 · 234 · 235 · 236 · 237 · 238 · 239 · 240 · 241 · 242 · 243 · 244 · 245 · 246 · 247 · 248 · 249 · 250 · 251 · 252 · 253 · 254 · 255 · 256 · 257 · 258 · 259 · 260 · 261 · 262 · 263 · 264 · 265 · 266 · 267 · 268 · 269 · 270 · 271 · 272 · 273 · 274 · 275 · 276 · 277 · 278 · 279 · 280 · 281 · 282 · 283 · 284 · 285 · 286 · 287 · 288 · 289 · 290 · 291 · 292 · 293 · 294 · 295 · 296 · 297 · 298 · 299 · 300 · 301 · 302 · 303 · 304 · 305 · 306 · 307 · 308 · 309 · 310 · 311 · 312 · 313 · 314 · 315 · 316 · 317 · 318 · 319 · 320 · 321 · 322 · 323 · 324 · 325 · 326 · 327 · 328 · 329 · 330 · 331 · 332 · 333 · 334 · 335 · 336 · 337 · 338 · 339 · 340 · 341 · 342 · 343 · 344 · 345 · 346 · 347 · 348 · 349 · 350 · 351 · 352 · 353 · 354 · 355 · 356 · 357 · 358 · 359 · 360 · 361 · 362 · 363 · 364 · 365 · 366 · 367 · 368 · 369 · 370 · 371 · 372 · 373 · 374 · 375 · 376 · 377 · 378 · 379 · 380 · 381 · 382 · 383 · 384 · 385 · 386 · 387 · 388 · 389 · 390 · 391 · 392 · 393 · 394 · 395 · 396 · 397 · 398 · 399 · 400 · 401 · 402 · 403 · 404 · 405 · 406 · 407 · 408 · 409 · 410 · 411 · 412 · 413 · 414 · 415 · 416 · 417 · 418 · 419 · 420 · 421 · 422 · 423 · 424 · 425 · 426 · 427 · 428 · 429 · 430 · 431 · 432 · 433 · 434 · 435 · 436 · 437 · 438 · 439 · 440 · 441 · 442 · 443 · 444 · 445 · 446 · 447 · 448 · 449 · 450 · 451 · 452 · 453 · 454 · 455 · 456 · 457 · 458 · 459 · 460 · 461 · 462 · 463 · 464 · 465 · 466 · 467 · 468 · 469 · 470 · 471 · 472 · 473 · 474 · 475 · 476 · 477 · 478 · 479 · 480 · 481 · 482 · 483 · 484 · 485 · 486 · 487 · 488 · 489 · 490 · 491 · 492 · 493 · 494 · 495 · 496 · 497 · 498 · 499 · 500 · 501 · 502 · 503 · 504 · 505 · 506 · 507 · 543 · 565 · 566 · 579 · 585 · 614 · 639 · 653 · 654 · 655 · 656 · 657 · 658 · 659 · 660 · 661 · 669 · 676 · 685 · 700 · 798 · 823 · 824 · 825 · 826 · 827 · 828 · 829 · 830 · 831 · 876 · 891 · 892 · 893 · 1071 · 1143 · 1152 · 1241 · 1253 · 1423 · 1424 · 1432 · 1582 · 1739 · 1780 · 1813 · 1834 · 2053 · 2059 · 2060 · 2061 · 2062 · 2174 · 2268 · 2344 · 2423 · 2427 · 2437 · 2444 · 2445 · 2446 · 2460 · 2464 · 2491 · 2495 · 2612 · 2613 · 2614 · 2615 · 2616 · 2641 · 2754 · 2755 · 2756 · 2757 · 2766 · 2767 · 2768 · 2793 · 2802 · 2803 · 2804 · 2805 · 2806 · 2807 · 2808 · 2809 · 2810 · 2811 · 2812 · 2813 · 2814 · 2815 · 2816 · 2817 · 2818 · 2819 · 2820 · 2821 · 2855 · 2856 · 2857 · 2858 · 2859 · 2860 · 2861 · 2862 · 2863 · 2881 · 2882 ·
---
01 · 02 · 03 · 04 · 05 · 06 · 07 · 08 · 09 · 010 · 011 · 012 · 013 · 014 · 015 · 016 · 017 · 018 · 019 · 020 · 021 · 022 · 023 · 024 · 025 · 026 · 027 · 028 · 029 · 030 · 031 · 032 · 033 · 034 · 035 · 036 · 037 · 038 · 039 · 040 · 041 · 042 · 043 · 044 · 045 · 046 · 047 · 048 · 049 · 050 · 051 · 052 · 053 · 054 · 055 · 056 · 057 · 058 · 059 · 060 · 061 · 062 · 063 · 064 · 065 · 066 · 067 · 068 · 069 · 070 · 071 · 072 · 073 · 074 · 075 · 076 · 077 · 078 · 079 · 080 · 081 · 082 · 083 · 084 · 085 · 086 · 087 · 088 · 089 · 090 · 091 · 092 · 093 · 094 · 095 · 096 · 097 · 098 · 099 · 0100 · 0101 · 0102 · 0103 · 0104 · 0105 · 0106 · 0107 · 0108 · 0109 · 0110 · 0111 · 0112 · 0113 · 0114 · 0115 · 0116 · 0117 · 0118 · 0119 · 0120 · 0121 · 0122 · 0123 · 0124 · 0125 · 0126 · 0127 · 0128 · 0129 · 0130 · 0131 · 0132 · 0134 · 0135 · 0136 · 0137 · 0138 · 0139 · 0140 · 0141 · 0142 · 0143 · 0144 · 0145 · 0146 · 0147 · 0148 · 0149 · 0150 · 0151 · 0152 · 0153 · 0154 · 0155 · 0156 · 0157 · 0158 · 0159 · 0160 · 0161 · 0162 · 0163 · 0164 · 0165 · 0166 · 0167 · 0168 · 0169 · 0170 · 0171 · 0172 · 0173 · 0174 · 0175 · 0176 · 0177 · 0178 · 0179 · 0180 · 0181 · 0182 · 0183 · 0184 · 0185 · 0186 · 0187 · 0188 · 0189 · 0190 · 0191 · 0192 · 0193 · 0194 · 0195 · 0196 · 0197 · 0198 · 0199 · 0200 · 0201 · 0202 · 0203 · 0204 · 0205 · 0206 · 0207 · 0208 · 0209 · 0210 · 0211 · 0212 · 0213 · 0214 · 0215 · 0216 · 0217 · 0218 · 0219 · 0220 · 0221 · 0222 · 0223 · 0224 · 0225 · 0226 · 0227 · 0228 · 0229 · 0230 · 0231 · 0232 · 0234 · 0235 · 0236 · 0237 · 0238 · 0239 · 0240 · 0241 · 0242 · 0243 · 0244 · 0245 · 0246 · 0247 · 0248 · 0249 · 0250 · 0251 · 0252 · 0253 · 0254 · 0255 · 0256 · 0257 · 0258 · 0259 · 0260 · 0261 · 0262 · 0263 · 0264 · 0265 · 0266 · 0267 · 0268 · 0269 · 0270 · 0271 · 0272 · 0273 · 0274 · 0275 · 0276 · 0277 · 0278 · 0279 · 0280 · 0281 · 0282 · 0283 · 0284 · 0285 · 0286 · 0287 · 0288 · 0289 · 0290 · 0291 · 0292 · 0293 · 0294 · 0295 · 0296 · 0297 · 0298 · 0299 · 0300 · 0301 · 0302 · 0303 · 0304 · 0305 · 0306 · 0307 · 0308 · 0309 · 0310 · 0311 · 0312 · 0313 · 0314 · 0315 · 0316 · 0317 · 0318 · 0319 · 0320 · 0321 · 0322 · 0323 ·
---
List of New Testament lectionaries
1 · 2 · 3 · 4 · 5 · 6 · 7 · 8 · 9 · 10 · 11 · 12 · 13 · 14 · 15 · 16 · 17 · 18 · 19 · 20 · 21 · 22 · 23 · 24 · 25 · 25b · 26 · 27 · 28 · 29 · 30 · 31 · 32 · 33 · 34 · 35 · 36 · 37 · 38 · 39 · 40 · 41 · 42 · 43 · 44 · 45 · 46 · 47 · 48 · 49 · 50 · 51 · 52 · 53 · 54 · 55 · 56 · 57 · 58 · 59 · 60 · 61 · 62 · 63 · 64 · 65 · 66 · 67 · 68 · 69 · 70 · 71 · 72 · 73 · 74 · 75 · 76 · 77 · 78 · 79 · 80 · 81 · 82 · 83 · 84 · 85 · 86 · 87 · 88 · 89 · 90 · 91 · 92 · 93 · 94 · 95 · 96 · 97 · 98 · 99 · 100 · 101 · 102 · 103 · 104 · 105 · 106 · 107 · 108 · 109 · 110 · 111 · 112 · 113 · 114 · 115 · 116 · 117 · 118 · 119 · 120 · 121 · 122 · 123 · 124 · 125 · 126 · 127 · 128 · 129 · 130 · 131 · 132 · 133 · 134 · 135 · 136 · 137 · 138 · 139 · 140 · 141 · 142 · 143 · 144 · 145 · 146 · 147 · 148 · 149 · 150 · 151 · 152 · 153 · 154 · 155 · 156 · 157 · 158 · 159 · 160 · 161 · 162 · 163 · 164 · 165 · 166 · 167 · 168 · 169 · 170 · 171 · 172 · 173 · 174 · 175 · 176 · 177 · 178 · 179 · 180 · 181 · 182 · 183 · 184 · 185 · 186 · 187 · 188 · 189 · 190 · 191 · 192 · 193 · 194 · 195 · 196 · 197 · 198 · 199 · 200 · 201 · 202 · 203 · 204 · 205 · 206a · 206b · 207 · 208 · 209 · 210 · 211 · 212 · 213 · 214 · 215 · 216 · 217 · 218 · 219 · 220 · 221 · 222 · 223 · 224 · 225 · 226 · 227 · 228 · 229 · 230 · 231 · 232 · 233 · 234 · 235 · 236 · 237 · 238 · 239 · 240 · 241 · 242 · 243 · 244 · 245 · 246 · 247 · 248 · 249 · 250 · 251 · 252 · 253 · 254 · 255 · 256 · 257 · 258 · 259 · 260 · 261 · 262 · 263 · 264 · 265 · 266 · 267 · 268 · 269 · 270 · 271 · 272 · 273 · 274 · 275 · 276 · 277 · 278 · 279 · 280 · 281 · 282 · 283 · 284 · 285 · 286 · 287 · 288 · 289 · 290 · 291 · 292 · 293 · 294 · 295 · 296 · 297 · 298 · 299 · 300 · 301 · 302 · 303 · 304 · 305 · 306 · 307 · 308 · 309 · 310 · 311 · 312 · 313 · 314 · 315 · 316 · 317 · 318 · 319 · 320 · 321 · 322 · 323 · 324 · 325 · 326 · 327 · 328 · 329 · 330 · 331 · 332 · 368 · 449 · 451 · 501 · 502 · 542 · 560 · 561 · 562 · 563 · 564 · 648 · 649 · 809 · 965 · 1033 · 1358 · 1386 · 1491 · 1423 · 1561 · 1575 · 1598 · 1599 · 1602 · 1604 · 1614 · 1619 · 1623 · 1637 · 1681 · 1682 · 1683 · 1684 · 1685 · 1686 · 1691 · 1813 · 1839 · 1965 · 1966 · 1967 · 2005 · 2137 · 2138 · 2139 · 2140 · 2141 · 2142 · 2143 · 2144 · 2145 · 2164 · 2208 · 2210 · 2211 · 2260 · 2261 · 2263 · 2264 · 2265 · 2266 · 2267 · 2276 · 2307 · 2321 · 2352 · 2404 · 2405 · 2406 · 2411 · 2412 ·
---