Philip Melanchthon
From Textus Receptus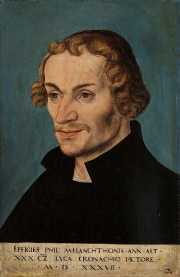 Philip Melanchthon (Philippus Melanchthon) (/məˈlæŋkθən/; 16 February 1497 – 19 April 1560), born Philipp Schwartzerdt (ˈʃvaɐ̯ts.eːɐt]), was a German reformer, collaborator with Martin Luther, the first systematic theologian of the Protestant Reformation, intellectual leader of the Lutheran Reformation, and an influential designer of educational systems. He stands next to Luther and Calvin as a reformer, theologian, and molder of Protestantism. Along with Luther, he is the primary founder of Lutheranism. They both denounced what they believed was the exaggerated cult of the saints, asserted justification by faith, and denounced the coercion of the conscience in the sacrament of penance by the Catholic Church, that they believed could not offer certainty of salvation. In unison they rejected transubstantiation, the belief that the bread from the Lord's Supper becomes Christ's body when consecrated. Melanchthon made the distinction between law and gospel the central formula for Lutheran evangelical insight. By the "law", he meant God's requirements both in Old and New Testament; the "gospel" meant the free gift of grace through faith in Jesus Christ.
Early life and education
He was born Philipp Schwartzerdt on 16 February 1497, at Bretten, near Karlsruhe, where his father Georg Schwarzerdt was armorer to Philip, Count Palatine of the Rhine. His birthplace, along with almost the whole city of Bretten, was burned in 1689 by French troops during the War of the Palatinate Succession. The town's Melanchthonhaus was built on its site in 1897.
In 1507 he was sent to the Latin school at Pforzheim, where the rector, Georg Simler of Wimpfen, introduced him to the Latin and Greek poets and Aristotle. He was influenced by his great-uncle Johann Reuchlin, brother of his maternal grandmother, a Renaissance humanist. It was Reuchlin who suggested Philipp change his surname from "Schwartzerdt" (literally "black earth"), into the Greek equivalent "Melanchthon" (Μελάγχθων), a custom which was usual among humanists of that time.
In 1509, he entered the University of Heidelberg, where he studied philosophy, rhetoric, and astronomy/astrology, and was known as a good Greek scholar. Refused the degree of master in 1512 on account of his youth, he went to Tübingen, where he continued humanistic studies, but also worked on jurisprudence, mathematics, and medicine. While there, he was taught the technical aspects of astrology by Johannes Stöffler.
Having earned a master's degree in 1516, he began to study theology. Under the influence of men like Reuchlin and Erasmus he became convinced that true Christianity was something different from scholastic theology as it was taught at the university. He became a conventor (repentant) in the contubernium and instructed younger scholars. He also lectured on oratory, on Virgil and Livy.
His first publications were an edition of Terence (1516) and a Greek grammar (1518), as well as a preface to Reuchlin's Epistolae clarorum virorum (1514).
Professor at Wittenberg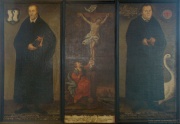 Opposed as a reformer at Tübingen, he accepted a call to the University of Wittenberg by Martin Luther, recommended by his great-uncle Johann Reuchlin. Melanchthon became professor of the Greek language in Wittenberg at the age of 21. He studied the Scripture, especially of Paul, and Evangelical doctrine. He was present at the disputation of Leipzig (1519) as a spectator, but participated by his comments. Johann Eck having attacked his views, Melanchthon replied based on the authority of Scripture in his Defensio contra Johannem Eckium (Wittenberg, 1519).
After lectures on the Gospel of Matthew and the Epistle to the Romans, together with his investigations into the doctrines of Paul, he was granted the degree of bachelor of theology, and was transferred to the theological faculty. He married Katharina Krapp, daughter of Wittenberg's mayor, on 25 November 1520.