Minuscule 205
From Textus Receptus
(Difference between revisions)
Line 11:
Line 11:

== History ==

== History ==

-

[[File:Johannes Bessarion aport012.png|thumb|right|120px|Cardinal Bessarion]]

+

[[:Johannes Bessarion aport012.png|thumb|right|120px|Cardinal Bessarion]]

The manuscript was written by John Rhosus to Cardinal [[Basilios Bessarion|Bessarion]] († 1472), together with the codices [[Minuscule 354|354]] and [[Minuscule 357|357]]. Rhosus was librarian of Cardinal. In 1468 it was sent to the library of Cardinal.<sup>[2]</sup> C. F. Rink considers it in the Gospels a mere copy of the codex [[Minuscule 209|209]].<sup>[5]</sup>

The manuscript was written by John Rhosus to Cardinal [[Basilios Bessarion|Bessarion]] († 1472), together with the codices [[Minuscule 354|354]] and [[Minuscule 357|357]]. Rhosus was librarian of Cardinal. In 1468 it was sent to the library of Cardinal.<sup>[2]</sup> C. F. Rink considers it in the Gospels a mere copy of the codex [[Minuscule 209|209]].<sup>[5]</sup>
---
Current revision
Minuscule 205 (in the Gregory-Aland numbering), δ 500 (Soden), is a Greek minuscule manuscript of the New Testament, on parchment. Paleographically it had been assigned to the 15th century.[1]
Description
The codex contains the text of the New Testament on 441 parchment leaves (size 39.8 cm by 28 cm).[1] The order of books: Gospels, Acts of the Apostles, Catholic epistles, Pauline epistles, and Apocalypse. Written in one column per page, in 55-56 lines per page.[2] It contains Prolegomena to Catholic and Pauline epistles, lists of κεφαλαια, κεφαλαια (Greek and Latin), τιτλοι, and subscriptions.[2] Text of Mark 16:8-20 marked by obelus.
It contains also Old Testament (except Book of Daniel).[3]
Text
The Greek text of the codex is a representative of the Caesarean text-type in the Gospels and the Byzantine text-type in rest of books of the codex. Aland plased it in Category III in Gospels and Revelation, and in Category V in rest of books[4] It is a member of Family 1 in the Gospels.
History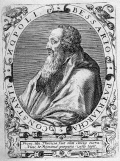 The manuscript was written by John Rhosus to Cardinal Bessarion († 1472), together with the codices 354 and 357. Rhosus was librarian of Cardinal. In 1468 it was sent to the library of Cardinal.[2] C. F. Rink considers it in the Gospels a mere copy of the codex 209.[5]
It was examined by Birch and Burgon.[2] According to Rinck it was coppied from codex 209.[6] Burgon argued that both were transcribed from the same uncial archetype as codex 209.[5]
It is currently housed at the Biblioteca Marciana (Gr. Z 6), at Venice,[1] together with the 205abs, which is evidently a copy of 205.[3]
See also
References
1. K. Aland, M. Welte, B. Köster, K. Junack, "Kurzgefasste Liste der griechischen Handschriften des Neues Testaments", Walter de Gruyter, Berlin, New York 1994, p. 59.
2. C. R. Gregory, "Textkritik des Neuen Testaments", Leipzig 1900, vol. 1, p. 167.
3. Amy S. Anderson, The Textual tradition of the Gospels: Family 1 in Matthew, Leiden; Boston: Brill, 2004, p. 115.
4. Kurt Aland, and Barbara Aland, "The Text of the New Testament: An Introduction to the Critical Editions and to the Theory and Practice of Modern Textual Criticism", transl. Erroll F. Rhodes, William B. Eerdmans Publishing Company, Grand Rapids, Michigan, 1995, p. 132.
5. F. H. A. Scrivener, "A Plain Introduction to the Criticism of the New Testament" (London 1894), vol. 1, p. 219.
6. W. F. Rinck, Lucubratio Critica in Act. Apost. Epp. Cath. et Pauli (Basileae, 1830).
Further reading
K. Lake, Codex 1 of the Gospels and its Allies, Texts and Studies, VII 3 (Cambridge, 1902).
External links
New book available with irrefutable evidence for the reading in the TR and KJV.
Revelation 16:5 and the Triadic Declaration - A defense of the reading of "shalt be" in the Authorized Version

1 ·

2 ·

3 ·

4 ·

5 ·

6 ·

7 ·

8 ·

9 ·

10 ·

11 ·

12 ·

13 ·

14 ·

15 ·

16 ·

17 ·

18 ·

19 ·

20 ·

21 ·

22 ·

23 ·

24 ·

25 ·

26 ·

27 ·

28 ·

29 ·

30 ·

31 ·

32 ·

33 ·

34 ·

35 ·

36 ·

37 ·

38 ·

39 ·

40 ·

41 ·

42 ·

43 ·

44 ·

45 ·

46 ·

47 ·

48 ·

49 ·

50 ·

51 ·

52 ·

53 ·

54 ·

55 ·

56 ·

57 ·

58 ·

59 ·

60 ·

61 ·

62 ·

63 ·

64 ·

65 ·

66 ·

67 ·

68 ·

69 ·

70 ·

71 ·

72 ·

73 ·

74 ·

75 ·

76 ·

77 ·

78 ·

79 ·

80 ·

81 ·

82 ·

83 ·

84 ·

85 ·

86 ·

87 ·

88 ·

89 ·

90 ·

91 ·

92 ·

93 ·

94 ·

95 ·

96 ·

97 ·

98 ·

99 ·

100 ·

101 ·

102 ·

103 ·

104 ·

105 ·

106 ·

107 ·

108 ·

109 ·

110 ·

111 ·

112 ·

113 ·

114 ·

115 ·

116 ·

117 ·

118 ·

119 ·

120 ·

121 ·

122 ·

123 ·

124 ·

125 ·

126 ·

127 ·

128 ·

129 ·

130 ·

131 ·

132 ·

133 ·

134 ·

135 ·

136 ·

137 ·

138 ·

139 ·

140 ·
---
List of New Testament minuscules
1 · 2 · 3 · 4 · 5 · 6 · 7 · 8 · 9 · 10 · 11 · 12 · 13 · 14 · 15 · 16 · 17 · 18 · 19 · 20 · 21 · 22 · 23 · 24 · 25 · 26 · 27 · 28 · 29 · 30 · 31 · 32 · 33 · 34 · 35 · 36 · 37 · 38 · 39 · 40 · 41 · 42 · 43 · 44 · 45 · 46 · 47 · 48 · 49 · 50 · 51 · 52 · 53 · 54 · 55 · 56 · 57 · 58 · 59 · 60 · 61 · 62 · 63 · 64 · 65 · 66 · 67 · 68 · 69 · 70 · 71 · 72 · 73 · 74 · 75 · 76 · 77 · 78 · 79 · 80 · 81 · 82 · 83 · 84 · 85 · 86 · 87 · 88 · 89 · 90 · 91 · 92 · 93 · 94 · 95 · 96 · 97 · 98 · 99 · 100 · 101 · 102 · 103 · 104 · 105 · 106 · 107 · 108 · 109 · 110 · 111 · 112 · 113 · 114 · 115 · 116 · 117 · 118 · 119 · 120 · 121 · 122 · 123 · 124 · 125 · 126 · 127 · 128 · 129 · 130 · 131 · 132 · 133 · 134 · 135 · 136 · 137 · 138 · 139 · 140 · 141 · 142 · 143 · 144 · 145 · 146 · 147 · 148 · 149 · 150 · 151 · 152 · 153 · 154 · 155 · 156 · 157 · 158 · 159 · 160 · 161 · 162 · 163 · 164 · 165 · 166 · 167 · 168 · 169 · 170 · 171 · 172 · 173 · 174 · 175 · 176 · 177 · 178 · 179 · 180 · 181 · 182 · 183 · 184 · 185 · 186 · 187 · 188 · 189 · 190 · 191 · 192 · 193 · 194 · 195 · 196 · 197 · 198 · 199 · 200 · 201 · 202 · 203 · 204 · 205 · 206 · 207 · 208 · 209 · 210 · 211 · 212 · 213 · 214 · 215 · 216 · 217 · 218 · 219 · 220 · 221 · 222 · 223 · 224 · 225 · 226 · 227 · 228 · 229 · 230 · 231 · 232 · 233 · 234 · 235 · 236 · 237 · 238 · 239 · 240 · 241 · 242 · 243 · 244 · 245 · 246 · 247 · 248 · 249 · 250 · 251 · 252 · 253 · 254 · 255 · 256 · 257 · 258 · 259 · 260 · 261 · 262 · 263 · 264 · 265 · 266 · 267 · 268 · 269 · 270 · 271 · 272 · 273 · 274 · 275 · 276 · 277 · 278 · 279 · 280 · 281 · 282 · 283 · 284 · 285 · 286 · 287 · 288 · 289 · 290 · 291 · 292 · 293 · 294 · 295 · 296 · 297 · 298 · 299 · 300 · 301 · 302 · 303 · 304 · 305 · 306 · 307 · 308 · 309 · 310 · 311 · 312 · 313 · 314 · 315 · 316 · 317 · 318 · 319 · 320 · 321 · 322 · 323 · 324 · 325 · 326 · 327 · 328 · 329 · 330 · 331 · 332 · 333 · 334 · 335 · 336 · 337 · 338 · 339 · 340 · 341 · 342 · 343 · 344 · 345 · 346 · 347 · 348 · 349 · 350 · 351 · 352 · 353 · 354 · 355 · 356 · 357 · 358 · 359 · 360 · 361 · 362 · 363 · 364 · 365 · 366 · 367 · 368 · 369 · 370 · 371 · 372 · 373 · 374 · 375 · 376 · 377 · 378 · 379 · 380 · 381 · 382 · 383 · 384 · 385 · 386 · 387 · 388 · 389 · 390 · 391 · 392 · 393 · 394 · 395 · 396 · 397 · 398 · 399 · 400 · 401 · 402 · 403 · 404 · 405 · 406 · 407 · 408 · 409 · 410 · 411 · 412 · 413 · 414 · 415 · 416 · 417 · 418 · 419 · 420 · 421 · 422 · 423 · 424 · 425 · 426 · 427 · 428 · 429 · 430 · 431 · 432 · 433 · 434 · 435 · 436 · 437 · 438 · 439 · 440 · 441 · 442 · 443 · 444 · 445 · 446 · 447 · 448 · 449 · 450 · 451 · 452 · 453 · 454 · 455 · 456 · 457 · 458 · 459 · 460 · 461 · 462 · 463 · 464 · 465 · 466 · 467 · 468 · 469 · 470 · 471 · 472 · 473 · 474 · 475 · 476 · 477 · 478 · 479 · 480 · 481 · 482 · 483 · 484 · 485 · 486 · 487 · 488 · 489 · 490 · 491 · 492 · 493 · 494 · 495 · 496 · 497 · 498 · 499 · 500 · 501 · 502 · 503 · 504 · 505 · 506 · 507 · 543 · 565 · 566 · 579 · 585 · 614 · 639 · 653 · 654 · 655 · 656 · 657 · 658 · 659 · 660 · 661 · 669 · 676 · 685 · 700 · 798 · 823 · 824 · 825 · 826 · 827 · 828 · 829 · 830 · 831 · 876 · 891 · 892 · 893 · 1071 · 1143 · 1152 · 1241 · 1253 · 1423 · 1424 · 1432 · 1582 · 1739 · 1780 · 1813 · 1834 · 2053 · 2059 · 2060 · 2061 · 2062 · 2174 · 2268 · 2344 · 2423 · 2427 · 2437 · 2444 · 2445 · 2446 · 2460 · 2464 · 2491 · 2495 · 2612 · 2613 · 2614 · 2615 · 2616 · 2641 · 2754 · 2755 · 2756 · 2757 · 2766 · 2767 · 2768 · 2793 · 2802 · 2803 · 2804 · 2805 · 2806 · 2807 · 2808 · 2809 · 2810 · 2811 · 2812 · 2813 · 2814 · 2815 · 2816 · 2817 · 2818 · 2819 · 2820 · 2821 · 2855 · 2856 · 2857 · 2858 · 2859 · 2860 · 2861 · 2862 · 2863 · 2881 · 2882 ·
---
01 · 02 · 03 · 04 · 05 · 06 · 07 · 08 · 09 · 010 · 011 · 012 · 013 · 014 · 015 · 016 · 017 · 018 · 019 · 020 · 021 · 022 · 023 · 024 · 025 · 026 · 027 · 028 · 029 · 030 · 031 · 032 · 033 · 034 · 035 · 036 · 037 · 038 · 039 · 040 · 041 · 042 · 043 · 044 · 045 · 046 · 047 · 048 · 049 · 050 · 051 · 052 · 053 · 054 · 055 · 056 · 057 · 058 · 059 · 060 · 061 · 062 · 063 · 064 · 065 · 066 · 067 · 068 · 069 · 070 · 071 · 072 · 073 · 074 · 075 · 076 · 077 · 078 · 079 · 080 · 081 · 082 · 083 · 084 · 085 · 086 · 087 · 088 · 089 · 090 · 091 · 092 · 093 · 094 · 095 · 096 · 097 · 098 · 099 · 0100 · 0101 · 0102 · 0103 · 0104 · 0105 · 0106 · 0107 · 0108 · 0109 · 0110 · 0111 · 0112 · 0113 · 0114 · 0115 · 0116 · 0117 · 0118 · 0119 · 0120 · 0121 · 0122 · 0123 · 0124 · 0125 · 0126 · 0127 · 0128 · 0129 · 0130 · 0131 · 0132 · 0134 · 0135 · 0136 · 0137 · 0138 · 0139 · 0140 · 0141 · 0142 · 0143 · 0144 · 0145 · 0146 · 0147 · 0148 · 0149 · 0150 · 0151 · 0152 · 0153 · 0154 · 0155 · 0156 · 0157 · 0158 · 0159 · 0160 · 0161 · 0162 · 0163 · 0164 · 0165 · 0166 · 0167 · 0168 · 0169 · 0170 · 0171 · 0172 · 0173 · 0174 · 0175 · 0176 · 0177 · 0178 · 0179 · 0180 · 0181 · 0182 · 0183 · 0184 · 0185 · 0186 · 0187 · 0188 · 0189 · 0190 · 0191 · 0192 · 0193 · 0194 · 0195 · 0196 · 0197 · 0198 · 0199 · 0200 · 0201 · 0202 · 0203 · 0204 · 0205 · 0206 · 0207 · 0208 · 0209 · 0210 · 0211 · 0212 · 0213 · 0214 · 0215 · 0216 · 0217 · 0218 · 0219 · 0220 · 0221 · 0222 · 0223 · 0224 · 0225 · 0226 · 0227 · 0228 · 0229 · 0230 · 0231 · 0232 · 0234 · 0235 · 0236 · 0237 · 0238 · 0239 · 0240 · 0241 · 0242 · 0243 · 0244 · 0245 · 0246 · 0247 · 0248 · 0249 · 0250 · 0251 · 0252 · 0253 · 0254 · 0255 · 0256 · 0257 · 0258 · 0259 · 0260 · 0261 · 0262 · 0263 · 0264 · 0265 · 0266 · 0267 · 0268 · 0269 · 0270 · 0271 · 0272 · 0273 · 0274 · 0275 · 0276 · 0277 · 0278 · 0279 · 0280 · 0281 · 0282 · 0283 · 0284 · 0285 · 0286 · 0287 · 0288 · 0289 · 0290 · 0291 · 0292 · 0293 · 0294 · 0295 · 0296 · 0297 · 0298 · 0299 · 0300 · 0301 · 0302 · 0303 · 0304 · 0305 · 0306 · 0307 · 0308 · 0309 · 0310 · 0311 · 0312 · 0313 · 0314 · 0315 · 0316 · 0317 · 0318 · 0319 · 0320 · 0321 · 0322 · 0323 ·
---
List of New Testament lectionaries
1 · 2 · 3 · 4 · 5 · 6 · 7 · 8 · 9 · 10 · 11 · 12 · 13 · 14 · 15 · 16 · 17 · 18 · 19 · 20 · 21 · 22 · 23 · 24 · 25 · 25b · 26 · 27 · 28 · 29 · 30 · 31 · 32 · 33 · 34 · 35 · 36 · 37 · 38 · 39 · 40 · 41 · 42 · 43 · 44 · 45 · 46 · 47 · 48 · 49 · 50 · 51 · 52 · 53 · 54 · 55 · 56 · 57 · 58 · 59 · 60 · 61 · 62 · 63 · 64 · 65 · 66 · 67 · 68 · 69 · 70 · 71 · 72 · 73 · 74 · 75 · 76 · 77 · 78 · 79 · 80 · 81 · 82 · 83 · 84 · 85 · 86 · 87 · 88 · 89 · 90 · 91 · 92 · 93 · 94 · 95 · 96 · 97 · 98 · 99 · 100 · 101 · 102 · 103 · 104 · 105 · 106 · 107 · 108 · 109 · 110 · 111 · 112 · 113 · 114 · 115 · 116 · 117 · 118 · 119 · 120 · 121 · 122 · 123 · 124 · 125 · 126 · 127 · 128 · 129 · 130 · 131 · 132 · 133 · 134 · 135 · 136 · 137 · 138 · 139 · 140 · 141 · 142 · 143 · 144 · 145 · 146 · 147 · 148 · 149 · 150 · 151 · 152 · 153 · 154 · 155 · 156 · 157 · 158 · 159 · 160 · 161 · 162 · 163 · 164 · 165 · 166 · 167 · 168 · 169 · 170 · 171 · 172 · 173 · 174 · 175 · 176 · 177 · 178 · 179 · 180 · 181 · 182 · 183 · 184 · 185 · 186 · 187 · 188 · 189 · 190 · 191 · 192 · 193 · 194 · 195 · 196 · 197 · 198 · 199 · 200 · 201 · 202 · 203 · 204 · 205 · 206a · 206b · 207 · 208 · 209 · 210 · 211 · 212 · 213 · 214 · 215 · 216 · 217 · 218 · 219 · 220 · 221 · 222 · 223 · 224 · 225 · 226 · 227 · 228 · 229 · 230 · 231 · 232 · 233 · 234 · 235 · 236 · 237 · 238 · 239 · 240 · 241 · 242 · 243 · 244 · 245 · 246 · 247 · 248 · 249 · 250 · 251 · 252 · 253 · 254 · 255 · 256 · 257 · 258 · 259 · 260 · 261 · 262 · 263 · 264 · 265 · 266 · 267 · 268 · 269 · 270 · 271 · 272 · 273 · 274 · 275 · 276 · 277 · 278 · 279 · 280 · 281 · 282 · 283 · 284 · 285 · 286 · 287 · 288 · 289 · 290 · 291 · 292 · 293 · 294 · 295 · 296 · 297 · 298 · 299 · 300 · 301 · 302 · 303 · 304 · 305 · 306 · 307 · 308 · 309 · 310 · 311 · 312 · 313 · 314 · 315 · 316 · 317 · 318 · 319 · 320 · 321 · 322 · 323 · 324 · 325 · 326 · 327 · 328 · 329 · 330 · 331 · 332 · 368 · 449 · 451 · 501 · 502 · 542 · 560 · 561 · 562 · 563 · 564 · 648 · 649 · 809 · 965 · 1033 · 1358 · 1386 · 1491 · 1423 · 1561 · 1575 · 1598 · 1599 · 1602 · 1604 · 1614 · 1619 · 1623 · 1637 · 1681 · 1682 · 1683 · 1684 · 1685 · 1686 · 1691 · 1813 · 1839 · 1965 · 1966 · 1967 · 2005 · 2137 · 2138 · 2139 · 2140 · 2141 · 2142 · 2143 · 2144 · 2145 · 2164 · 2208 · 2210 · 2211 · 2260 · 2261 · 2263 · 2264 · 2265 · 2266 · 2267 · 2307 · 2321 · 2352 · 2404 · 2405 · 2406 · 2411 · 2412 ·
---