Hebrews 13:25
From Textus Receptus
(Difference between revisions)
Line 29:
Line 29:

* [[Hebrews 13]]

* [[Hebrews 13]]

-

* [[Hebrews 13:25 (TRV)]]

* [[Textus Receptus]]

* [[Textus Receptus]]

-

* [[Textus Receptus Version]]

{{Donate}}

{{Donate}}
---
Current revision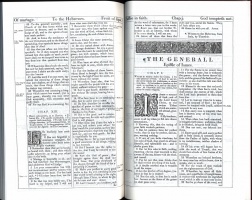 (Textus Receptus, Novum Testamentum, Theodore Beza, 4th folio edition. Geneva. 1598)
(King James Version, Pure Cambridge Edition 1900)
(King James Version 2016 Edition, 2016)
Written by Timothy
Timothy was dictated to by Paul. If you look at a King James Version, it states before chapter 1:
"The Epistle of PAUL The Apostle To The Hebrews"
The very last words say:
"Written to the Hebrews from Italy, by Timothy."
Just as in Philemon which ending with [Written from Rome to Philemon, by Onesimus] which suggests Onesimus is the author of Philemon, which nobody contends because it begins with "Paul and Timothy unto Philemon". As a gifted orator, Paul often orated epistles penned by another, as a lawyer orates and a secretary types.
See Also